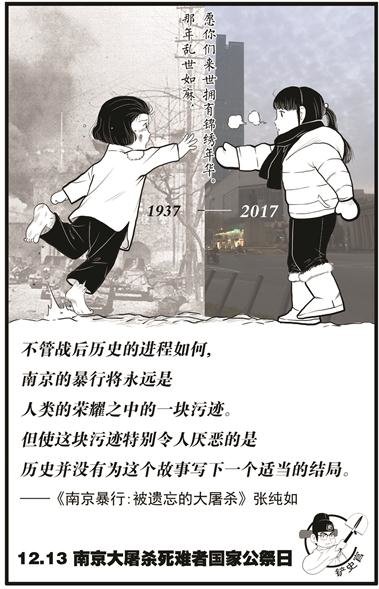 The comic shows two girls "holding hands" despite a space-time gap of 80 years. [Photo by Zhu Yan]
"That year was a very turbulent time. But I wish you a future filled with peace and happiness."
This sentence comes from a comic which went viral on China's social media December 13, the National Memorial Day of the Nanjing Massacre.
There are two girls looking at each other and trying to hold hands in the picture - one from the year 1937 while in the flames of war, and the other from 2017 while living in peaceful modern times.
Many Weibo users reposted the picture and expressed their grief when they saw the picture.
Shanchuanwanliyou said, "We must work hard to prevent such tragedies from happening again."
The feeling was echoed by Yangyun_Boa : "We should cherish peace and keep history in mind."
Zhu Yan, the creator of this picture, said the background of the girl from 1937 on the left shows when the Japanese Army broke through Nanjing, and that of the girl from 2017 on the right shows Xinjiekou, Nanjing at present as shot by himself. "By comparison, we want to express a feeling of being helpless, even though everyone wants to help those people in war," he said.
The 33-year-old man, who studied in a university in Nanjing for four years and now works in Beijing, learned the history of the Nanjing Massacre very well.
Zhu Yan told Beijing Youth Daily that the picture was created Decemberember 2016, when it drew much attention on the internet, and it gained many more responses this year when someone changed "2016" to "2017" and shared it on social media.
He said he hopes everyone will not forget the history through this picture, but its popularity was unexpected.
Zhu Yan's team published the latest version of the comic Wednesday. In this picture, two boys replaced the girls. There is a sentence between them stating, "If one day we could meet, I would tell you that our country stays peaceful and people live happily now."
"This is a way of memorializing to promote the picture," an internet user says.
Zhu Yan allows everyone to post the pictures on their Weibo and WeChat moments. He and his team both think all Chinese people have these feelings and memories, so the copyright is open to all Chinese people.
(Source: chinadaily.com.cn)