The "galsang flower sisters" at the Kunlun Bridge Station of the Qinghai-Tibet Railway's Golmud to Lhasa section, 3,500 meters above sea level. [Xinhua/Hou Deqiang]
Four women in their 30s are mainly responsible for wiring, welding and commissioning of signal rooms along the Golmud-to-Lhasa section of the Qinghai-Tibet railway line
Since the start of work on the Qinghai-Tibet Railway's Golmud-to-Lhasa section last year, four female workers from the China Railway 21 Bureau Group have been working at the construction site on the plateau, with an average elevation of 4,000 meters. They are called the "galsang flower sisters" by other workers. Galsang is ubiquitous on the Qinghai-Tibet Plateau, signifying vitality. The four workers, who are in their 30s, are mainly responsible for wiring, welding and commissioning of signal rooms along the railway line.
Hypoxia and an arid environment have not held back these cheerful, optimistic and strong women, who are helping to build a robust railway transportation network.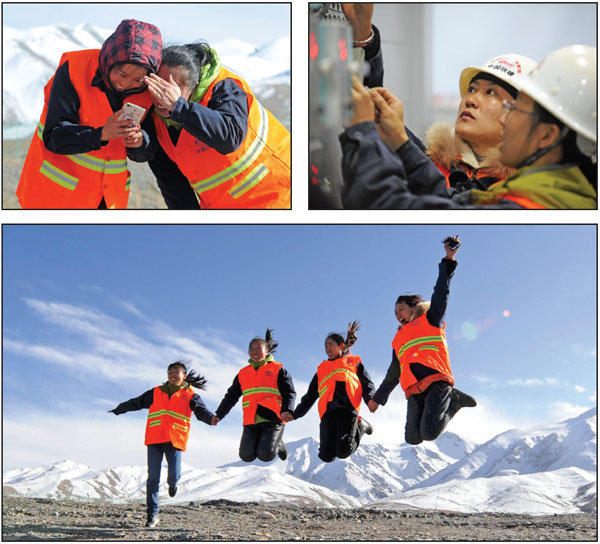 Clockwise from top left: Li Fang (left) and Zheng Yan share photos; Wang Shan (left) shows Zhang Feifei how to do wiring; The four women jump hand in hand for a photo shoot at an altitude of 4,100 meters. [Xinhua]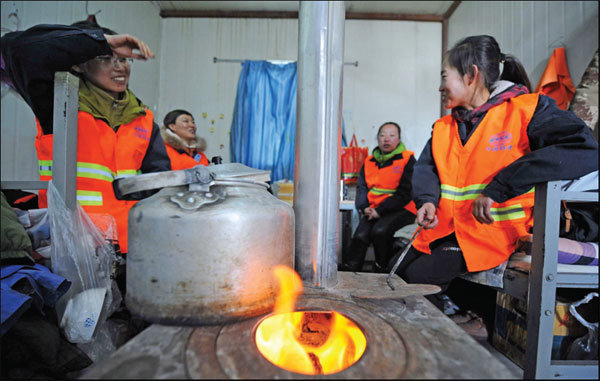 The four female workers take a rest near a stove. [Xinhua]
(Source: China Daily)
Please understand that womenofchina.cn,a non-profit, information-communication website, cannot reach every writer before using articles and images. For copyright issues, please contact us by emailing: website@womenofchina.cn. The articles published and opinions expressed on this website represent the opinions of writers and are not necessarily shared by womenofchina.cn.