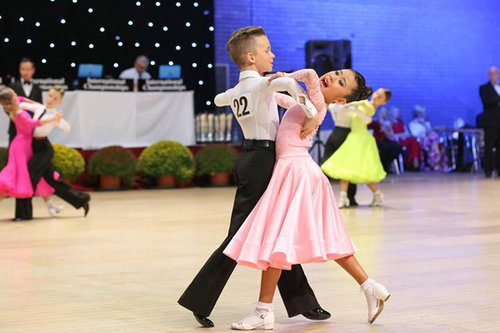 Kerry Sui and Francis Carty [Facebook account of Kerry Sui and Francis Carty]
Small body, big power, a 10-year-old Chinese girl who has been living in Ireland has taken her ballroom dancing to the top on the international stage.
Born in 2007, Kerry Sui, or Sui Yuanjing in Chinese, came to Dublin, the capital and largest city of Ireland, with her parents over 10 years ago.
Thanks to a lucky break, Kerry Sui started dancing in a supporting role for her sister Cherry Sui, but was spotted by her teacher Laura O'Brien.
"I knew she was gifted the first time I saw her. Her confidence, courage and graceful carriage in dancing surprised me a lot. Later, I advised her mother to train her into a professional dancer," said O'Brien.
Sui's parents followed the teacher's suggestion and Kerry Sui began her dancing career. Kerry Sui met her partner Francis Carty in March 2017 and, currently, they are registered as a couple in England and dance in juvenile form.
Though short in height, they have made pretty big achievements so far.
They took the No. 1 position in the Juvenile CSRJ Latin category of the 2017 Hampshire Dance Festival held on October 8, 2017.
Also, they ranked second in the Blackpool Dance Festival, the world's first and most famous annual ballroom dance competition of international significance held in England since 1920, and were later chosen as the elite dancing performers for DSI London, the world's leading retailer and wholesaler of ballroom dance.
"Every time I dance on the stage, I feel very proud and excited. I work hard in the daily training and long for the acknowledgment of most audiences," said Sui.
"Family means much to me. My father now works as a chef in another city of Ireland, aiming to make more money to keep me going while my mother is a full-time housewife, doing all she can to support me. I want to dance better in the future and relieve them with my bright records," she added.
(Source: China Daily)