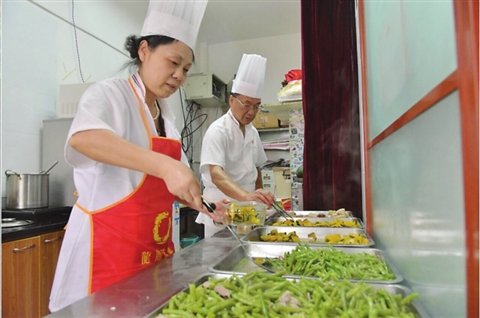 Zhou Shanwen cooks at the kitchen. [youth.cn]
An optimistic 62-year-old woman who was diagnosed with leukemia around 20 years ago has positively contributed her efforts to cooking lunch for local senior people and those who live alone in the last two years.
Zhou Shanwen hails from Suzhou City, in east China's Jiangsu Province. Zhou said, "Love gives me a second life. I will dedicate myself to serving people in need for the rest of my life."
Zhou's health has been in poor condition since childhood. In her 40s, after being examined in hospital, she was told that she had leukemia.
It was a big blow to her and her family members. Maintaining a ray of hope for treating her disease, her family members asked for help from the Red Cross Society. Shortly afterwards, Zhou was told that a volunteer's bone marrow had successfully matched with hers.
Through transplanting potentially life-saving stem cells, Zhou finally got rid of the pains of the disease. "I think this disease is a test for me. Since I went through that difficult time, I decided to cherish my life more and do as many meaningful things as possible."
In these years, Zhou has suffered from toothache and pain from lymph swelling. But, she has actively taken part in charity events to give back to society as long as she has an opportunity. "In the process of participating in public welfare activities, I forget the pain and ups and downs I have experienced before. I feel that my life is full of sunshine again."
In November 2016, a kitchen which is focused on offering lunch services for vulnerable elderly people, opened in the community where Zhou lived. After learning of this, she immediately told Cheng Jie, secretary of the Party committee of the community that she wanted to be a volunteer.
"It only costs the senior people around 10 yuan (U.S.$ 1.50) to have a delicious, healthy and filling lunch. The number of volunteers serving the kitchen has doubled since its establishment," said Cheng.
Last Thanksgiving Day, a man in his 80s donated around 10,000 yuan (U.S.$ 1,543) to the kitchen. His charitable behavior greatly moved Zhou and other volunteers. "Provided that we have the ability to cook, we will keep on serving the kitchen," claimed the volunteers.
(Source: youth.cn/Translated and edited by Women of China)