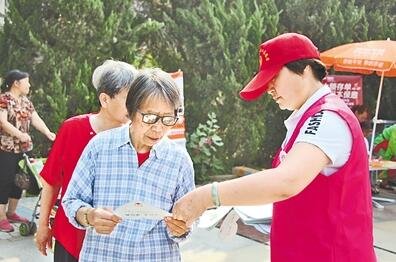 A volunteer (R) from the social organization distributes a pamphlet related to creating a model living environment amongst passers-by. [hebnews.cn]
People from a residential community in Shijiazhuang, capital city of north China's Hebei Province, have been trying their utmost to cultivate an atmosphere filled with mutual understanding and assistance and to build a harmonious and clean living place in recent years.
Chang Yuncha, Party chief of Shenxing Residential Community in Yuhua District in Shijiazhuang said that the popularity of TV series Idler: Sister Ma in 2007 gave local residents inspiration to form their own voluntary organization dedicated to making a difference around them.
Sister Ma in the TV drama has been reputed amongst her neighbors for her readiness to give a hand to those in need of help.
Therefore, local residents' participation has given a great boost to the involved residents' committee in the management of public affairs since it is suffering a shortage of workers to accomplish anticipated tasks.
The emergence of a voluntary organization in the residential community has produced a win-win result for those having free time and others in need of assistance.
Henceforth the organization has been involved in the maintenance of a clean living place, the attendance of elderly residents from 'empty-nest' families (elderly people living without their children at their sides) or their childless peers, the opening of leisure activities, the mediation of inter-family disputes and other affairs for the public interest.
The number of its members has risen from a dozen up to over 600, accounting for about 10 percent of the community's population. In fact, the proportion of male members in the social organization is about 20 percent, though its name sounds as though only women are included.
Right now, the organization has been engaged in the creation of a model living environment, which features a clean natural environment, harmonious social atmosphere and better administration for its dwellers.
(Source: hebnews.cn/Translated and edited by Women of China)