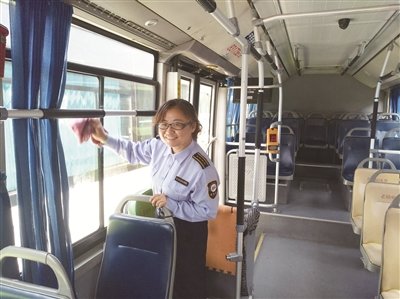 He Yongping [workercn.cn]
A Beijing bus conductor has devoted almost all of her spare time in the last few years to caring for disadvantaged children and those with physical impairments at a local orphanage.
He Yongping said she was greatly impressed by a line in a movie she saw once. The character said: "If someone can use just one seventieth of his or her life to do a meaningful thing, then that life will be much more beautiful."
Therefore, the woman resolutely embarked on the road of furthering public welfare, trying her best to help vulnerable youngsters at the capital's 365 Morning Light Baby Home.
During each day-off or holiday, she can be seen at the orphanage, enthusiastically telling stories or sewing and mending clothes for youngsters.
Chen Zihao is an abandoned child who has suffered from leukemia. After learning about Chen's condition, the transport worker goes to the orphanage to accompany him as long as she was free.
Aside from this, the caring woman always saves a small portion of her salary, donating the remaining part to children in need at the center.
Furthermore, she plays an active role in thinking about what items the children might need and making a list in advance each time an activity is held there.
Recently the woman and several volunteers from the orphanage organized a charity auction after collecting some useful items, donating all earnings for the residents.
Her selfless contribution and great endeavor has been widely recognized and affirmed by other volunteers. For this, she maintained her family members have given her huge support and encouragement in the course of doing good deeds.
With the deeper understanding of public welfare causes, she has used her own actions to interpret her outlook on life, her values and the world. Whether taking part in discussion of problems or activities, she is always serious and sincere.
Wherever she goes, she wants to spread the spirit of being a volunteer and bring happiness to those in need with her radiant smile, she concluded.
(Source: workercn.cn/Translated and edited by Women of China)