Han Yuanhui waters plants in his courtyard. [huaxi100.com]
A young couple in southwest China's Sichuan Province has successfully renovated a rented farmhouse into a beautiful garden for their small son, aiming to make him closer to nature.
Han Yuanhui, who works as a photographer, disclosed his idea to build a garden for their child to his wife in 2016. In response, his wife gave him her full support after listening to a detailed description.
In fact, Han began to harbor the idea at the moment when his son was born in 2014. However, his wish to have a personal garden can be traced back to his childhood. He left his mountainous hometown and studied at a school in Chengdu, capital city of Sichuan, at the age of 8. One day, he followed his aunt to visit the home of a retired teacher, who had such a garden. He was deeply impressed by its beauty.
After a while, Han and his wife found an ideal courtyard, which is not far away from downtown Chengdu earlier this year. They signed a 10-year deal with its owner and paid the rental fee of about 40,000 yuan (U.S.$ 5,881.48) per year as soon as they could.
Therefore, the couple were preoccupied with the renovation of their courtyard in the following several months and moved into it at the end of this June. They have grown many kinds of flowers and set up bamboo-made fences in the yard. Furthermore, the road has been repaired with flat flagstones, which allow their teenage son to ride his scooter around.
Right now, the little kid often plays around in the yard, sits down to look at ants and run after insects. Moreover, he has become more independent and is able to eat meals by himself, his parents said.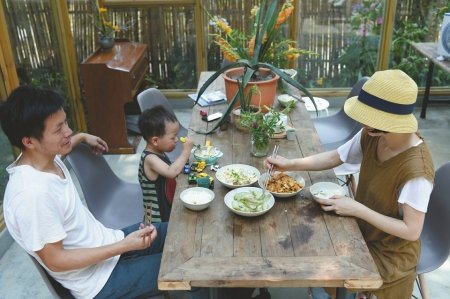 The family eat their meal in their courtyard. [huaxi100.com]
The kid plays in front of a table in the courtyard. [huaxi100.com]
Han Yuanhui (R) reads a cartoon book for his son in their courtyard. [huaxi100.com]
(Source: huaxi100.com/Translated and edited by Women of China)