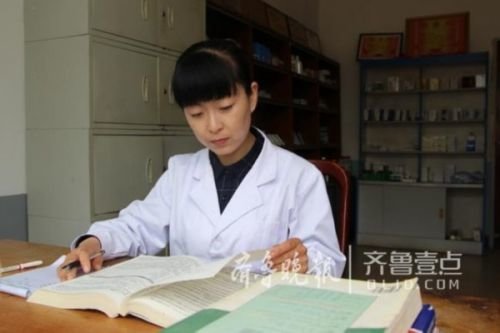 Wang Lina works at her clinic. [iqilu.com]
A young rural doctor has dedicated herself to guarding the health of over 1,000 villagers under tough conditions on an isolated island for around 15 years.
Tianheng Island is located off the coast near Jimo, a county-level city in east China's Shandong Province. Measuring 1.4 square kilometers, life on the sparse island is extremely difficult, which has deterred many doctors to work there in the past.
Back in 2002, when the local region's health center convened a meeting about selecting medical graduates to work on the island, Wang Lina actively expressed her willingness to go there as multiple other young physicians frowned upon the prospect.
"My home is close to the island and it is convenient for me. In addition, villagers living on the island need a doctor as much as anyone else," Wang said.
The women claimed that she still had a vivid memory of coming to the island for the first day. "It was on August 31 that I carried my suitcase and rode in a fisherman's boat to get there."
Although she had mentally prepared in advance of her arrival, Wang said she was still shocked at what she found. "The office was a simple rural bungalow. There was neither running water, nor any independent consulting room."
While talking about the living conditions with her family members, Wang burst into tears. Despite this, she insisted on staying there for the sake of islanders' health, Wang maintained.
During the past few years, Wang has usually stayed there for seven or eight days at a time. The longest time ever for her is two months, the woman stated.
Due to her dedication, she knows each patient's health condition personally.
At the beginning of 2014, Wang was seven months pregnant and was invited to attend the local region's health center's meeting. Unexpectedly, she sprained her back due to the rough waves when she took a boat.
After her health made a turn for the better, she immediately prescribed herself some medicine and went back to her post. Aside from this, the dedicated doctor did not leave the island until the expected date of her baby's delivery.
When her baby was a month-and-half old, she started to work on the island again.
"She seems like a family member for us, as she is always there as long as we need her," commented Yang Shengyu, a local resident.
At midnight once, when a villager in her 80s had a sudden heart attack, Wang hurried to get dressed and went to the patient's home. Over the years, Wang has carried out many such night visits to patients.
The woman claimed she will wholeheartedly guard the health of the villagers on the island as long as she is there.
(Source: iqilu.com/Translated and edited by Women of China)