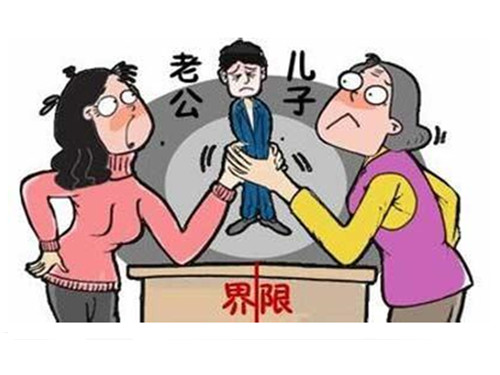 A cartoon shows a man in a dilemma over a quarrel between his wife and mother. [china.com.cn]
An innovative Chinese wife has taken a unique approach to promoting family harmony by regularly posting her heartwarming daily interactions with her mother-in-law onto WeChat, China's major instant messaging app.
Wang Naiqin, 30, married in 2015 and later settled down in the city of Suzhou, east China's Jiangsu Province.
She started uploading short messages online a year later, especially after her husband's mom came from her hometown to help look after the couple.
Many contacts "like" her posts and say they are a relief tide of children's photos or selfies that most people share.
"My posts record many of the everyday trivial things that have happened between my mother-in-law and other family members," Wang said.
"On January 14, for example, I wrote how I really wanted to eat the vegetable shepherd's purse. Later, I found she had prepared the very same dish the next morning," she explained.
Moreover, her mother-in-law often reminds Wang to take an umbrella in advance or prepares fresh fruits and vegetables for the young couple, Wang recalled.
"I am thankful for the elderly woman to come and accompany us during our busy work shifts. In return, I often invite her to attend activities together, such as shopping, having our nails done, or a facial care," Wang reported.
"I even talk about my difficulties at work with the aging wise woman, whose soothing words are of great comfort for me," Wang said.
Meanwhile, Wang's husband stated that he thinks he could possibly be the happiest man in the world, since the wife and his mother may never leave him in a dilemma.
(Source: Yangtze Evening News/Translated and edited by Women of China)