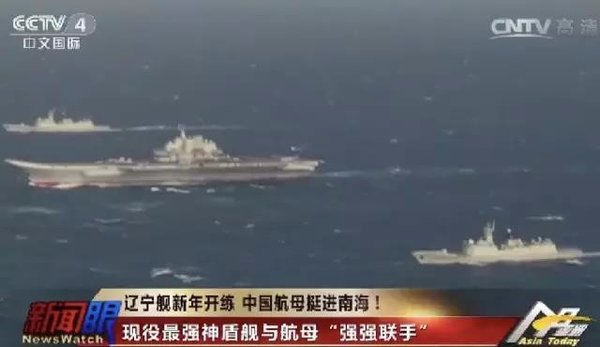 A TV broadcast shows the Liaoning aircraft carrier on its maiden voyage over the South China Sea. [Women Voice]
Around 100 female officers recently set sail on the maiden voyage of China's first aircraft carrier on its landmark trip to the South China Sea.
The Liaoning, named after China's northeast province, set off at the start of 2017 to conduct a local military operation.
Prior to their boarding, the female navy members, made up of nine ethnic nationalities, and each trained in 35 specialist subjects, had to pass strict tests to prove their professional qualifications.
Nowadays, they play important roles in eight sectors on deck, in contrast to the past when women were only allowed to work on land-based operations, for example, in medical or telecommunication services.
In November, 2010, a group of 24 Chinese female sailors were first seen on board the country's floating navy hospital Peace Ark.
Their job responsibilities included steering, radio operations, signaling and radar management during the Harmonious Mission 2010 voyage to five countries in both Asia and Africa.
As a result, this group earned the title of China's first carrier-trained female crew.
Later, China expanded such a female crew into 91 members for the Liaoning carrier. The team received the honor of National March 8th Red Banner Collective Pacesetter in March 2014.
Song Meiyan, the leader at the time, said: "In my opinion, I believe that such a proud moment not only belongs to the female crew on the aircraft carrier, but highlights all the female officers in China's navy."
"It is also relevant to all those service women who have dedicated themselves for the realization of the 'Chinese Dream' of the rejuvenation of the Chinese nation," Song added.
According to a current crew member, female officers are now working on the same tasks as their male partners in various sectors on-board. These include navigation, aviation, military operations, weapons control and electromechanical operations.
Wei Huixiao, vice-sailing officer in the sector of navigation, who earned her doctorate degree at south China's Sun Yat-sen University, said: "I was determined to conduct marine scientific research as a naval officer, instead of pursuing a career in a regular field."
Another officer Wu Dongyan was the first female to obtain a qualification for processing messages. As an English-major, Wu made use of her language skills and has already completed translations of around 40,000 words.
Expert's Comment
"One of China's goals in developing its aircraft carrier is to safeguard the nation's territorial sovereignty and maritime rights and interests over the South China Sea," said Yin Zhuo, a Chinese military expert.
"Without such a battle ship, China would be at a disadvantageous position in an aerial battle," Yin added.
"In the southern part of the Sea, the air force can hardly make their way due to its limited flying capability. Even huge combat aircraft can only stay for around 10 minutes in the air after they set off from south China's Hainan Island," Yin explained.
"Nowadays, the carrier enables Chinese naval vessels and submarines to perform better in the voyage," concluded the expert.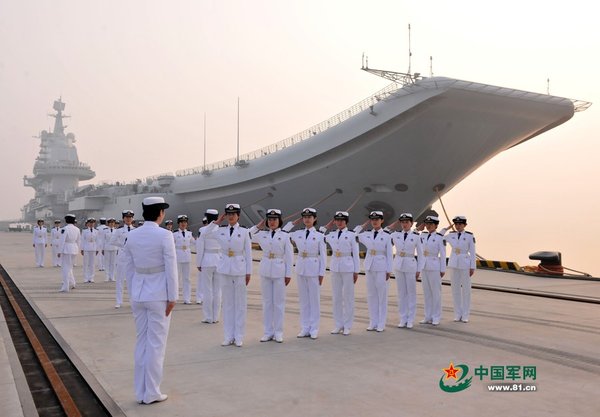 China's female naval crew stands in a line to salute an officer. [81.cn]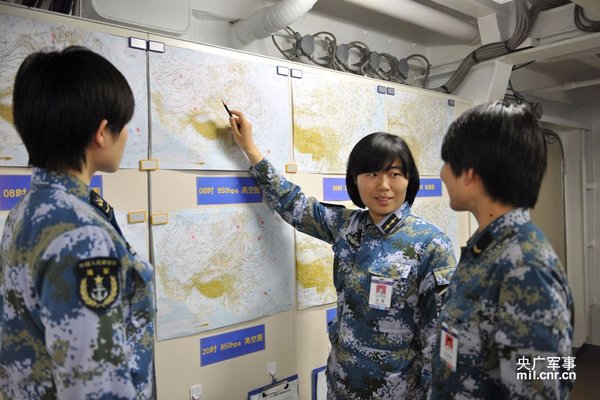 Three female naval officers discuss positions on a map. [mil.cnr.cn]
Officer Song Meiyan poses at a ceremony to honor National March 8th Red Banner Collective Pacesetters. [Women Voice]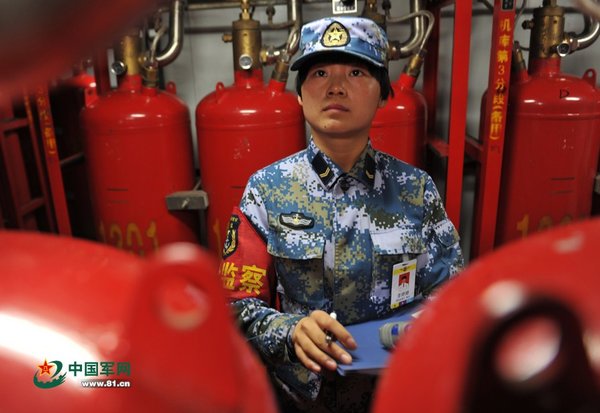 A female officer checks instruments on-board the carrier. [81.cn]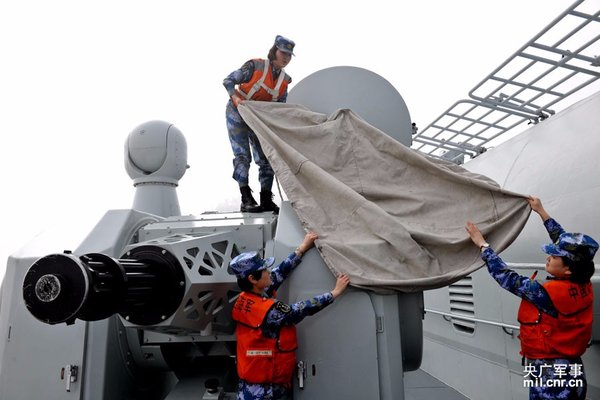 Female officers cover a radar station with protective cloth. [mil.cnr.cn]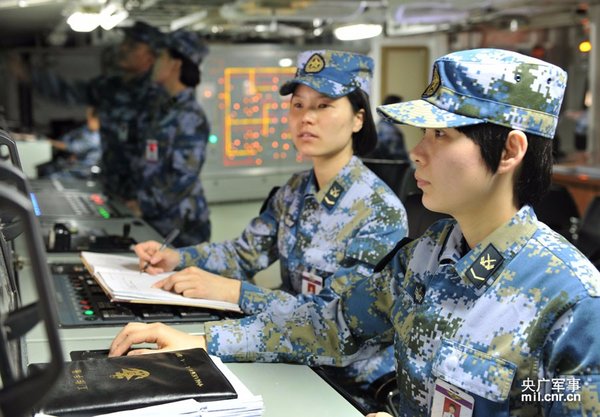 A female naval team checks data in the control room. [mil.cnr.cn]
Two officers roll out a flag aboard the ship. [mil.cnr.cn]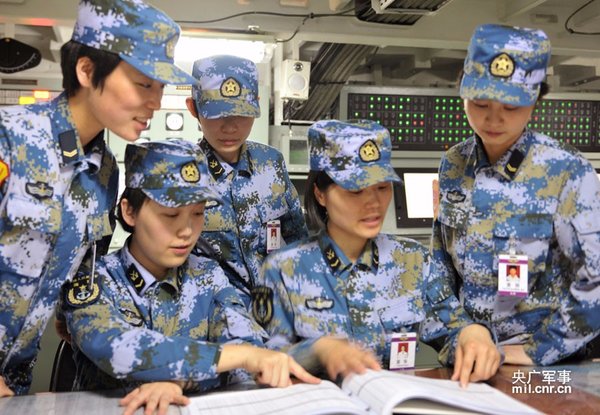 Several naval crew members gather together to study a chart. [mil.cnr.cn]
(Source: Women Voice/Translated and edited by Women of China)