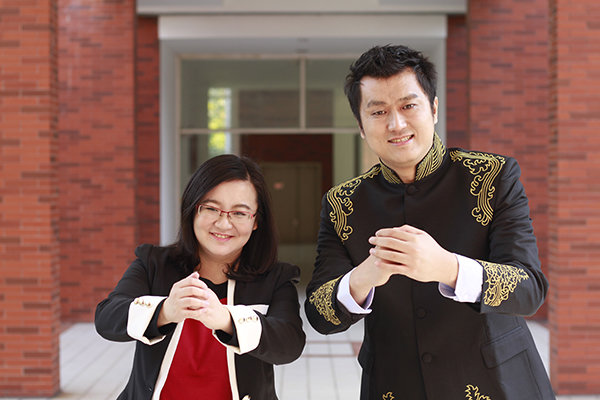 Li Hongye (R) and his wife Zheng Yu (L) make a gesture which is typically given at the start of crosstalk performances. [thepaper.cn]
Waves of laughter from a sold-out comedy show which recently premiered in Shanghai are a true measure of the success of its two performers – a pair of Chinese engineering PhD students.
Husband-and-wife team Li Hongye and Zheng Yu both major in material science and engineering at Shanghai Jiao Tong University (SJTU).
Even with their academic background, they still manage to bring joy through their original displays of xiangsheng, or crosstalk, a form of dialogue-based comedy popular throughout the country.
Meanwhile, the crowds who come to see them constantly wear smiles from ear to ear.
The audience on that day broke out in laughter exactly 61 times during the entire 12-minute performance. The average gap between punch lines was 21 seconds, said Li, who has a habit of recording the performances and later analyzes the results.
"My wife and I were originally both natives of north China's Tianjin Municipality, a city that is the birthplace of xiangsheng. It is a comedic art that is rich in puns and allusions," explained Li.
"I think this cultural atmosphere in my hometown has largely influenced my creations," he added.
"I started writing textbook-based short dramas at elementary school; crosstalk scripts in middle school; and, later produced lots of songs and lyrics in high school," recalled Li. "Then, I joined the Crosstalk Association at SJTU."
Li said: "To figure out what can trigger people's sense of humor, my wife and I learned many classic jokes from crosstalk shows. In my opinion, ours can beat them in terms of innovation."
As far as Li is concerned, this traditional art requires years of training. It usually focuses on four basic skills: voice, imitation, teasing and singing. In comparison, his comedy focuses on correlating the latest hot issues with metaphors that are in step with young people's interests.
"In our latest performance to celebrate the upcoming Spring Festival, for example, I took advantage of the Chinese zodiac calendar. The Year of the Rooster falls in 2017. I played on its similar pronunciation to mahjong, which had a great effect," explained Li.
"Telling fresh jokes is a significant feature of our comedy. Meanwhile, our four major skills are expression, brainstorming, original humor and artistic insight," concluded Zheng.
Li has since written three books on crosstalk, and made a short film last year to celebrate the SJTU's 120th anniversary.
"Nowadays, one of my ambitions is to pioneer a major in crosstalk at college and teach it to students. If this comes true one day, my life will totally be worth it," commented Li.
Members of the Crosstalk Association at SJTU pose during a performance. [thepaper.cn]
(Source: thepaper.cn/Translated and edited by Women of China)