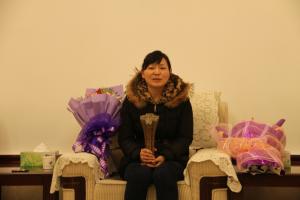 Fang Xiaomei [zy.wenming.cn]
A rural doctor called Fang Xiaomei has spent the last 10 years dedicating herself to treating villagers' diseases and helping them relieve poverty.
Fang, 31, is a doctor as well as deputy director of the village committee in Ximachi Village, Huangyang Township, Suiyang County, in southwest China's Guizhou Province. Fang had been determined to become a doctor ever since her childhood, when she witnessed her villagers suffering because they were unable to receive medical treatment, due to the lack of doctors and medicine in her mountainous village, which is 78 km away from Suiyang County. Thus, after graduating from college in 2002, Fang returned to her village and started a clinic in a rented house. .
On a cold, rainy, winter night in 2008, Fang received a call from a villager and then set off immediately. On the way, she slipped down several times and was injured. After getting to the patient's home, Fang examined him and found he had acute gallbladder disease. Fang then immediately helped him to relieve some of the pain he was in. After that, she and the family of the patient took him to the clinic in the township. It was broad daylight by the time she finished her work.
"It is my responsibility to relieve pain for patients," Fang always says this whenever a patient or their families express their thanks to her.
Besides giving medical treatment, Fang visits seniors regularly to give them health guidance and help them solve practical issues in their daily lives. She even buys medicine for some poverty-stricken seniors using her own money.
For medical and drug safety of the villagers, Fang strictly complies with the regulations, and resolutely resists counterfeit or substandard drugs.
In the villages surrounding her own, everyone knows Fang well, and whenever they mention her, especially the seniors, they sing high praise for her. "Doctor Fang is always responsible for her work and there is always a smile on her face," said the villagers.
In her spare time, Fang actively studies and attends training sessions to improve her medical skills, so as to give better medical treatment to the villagers.
In 2009, Fang was elected as deputy director of the village committee for her hard work and selfless devotion. To help her fellow villagers reduce poverty and become rich, Fang actively sought support in finance and techniques in growing capsicum frutescens (a kind of pepper) to the superior departments. In 2011, the industry helped each villager increase their income by 120 yuan (U.S. $19.3) per year. Subsequently, the surrounding villages also learned how to grow capsicum frutescens, and were also able to increase their earnings.
With her cautious and conscientious work and great contributions to local villagers' health, Fang has received several prizes, such as a model Party member in Huangyang Township, a "March 8 Red-Banner Holder" in Suiyang County, and a moral model in Zunyi City. In January 2014, she was honored as one of "the most beautiful rural doctors" nationwide.
(Source: Xinhua/Translated by womenofchina.cn)