Naval officer Bai Junfei and his wife Song Ruiya (middle) holding their daughter in her hug pose for a family photo with smiles in front of a sovereignty monument on Zhongjian Island, the Xisha Islands. [81.cn]
Two naval officers celebrated with their family members on National Army Day (August 1) in the South China Sea, after special flights to the islands were organized for them to enjoy much-treasured reunions.
High-school teacher Song Ruiya and nurse Li Weina, who both work in the mainland, managed to go in advance to Zhongjian Island, a major feature in the Xisha Islands. To reach there, they took different forms of transport over consecutive eight days, including trains, airplanes, a ship and helicopters.
The moment they landed on the encampment, the two visiting families receive a garland with local flowers followed by a grand welcoming ceremony.
Li and her husband Cheng Jiapeng married three years ago. However, at that time, the husband was too busy to hold celebrations. Thus, they took the opportunity to take a series of wedding photos, with Cheng complimenting his bride on the rarity of the occasion and location.
Meanwhile, Song said she cherished the family reunion time with her husband Bai Junfei, a navy officer on the island, together with their daughter. The couple also revived their marital happiness by shooting wedding photos there.
Fan Qihong, a local army leader, expressed his heartfelt gratitude to Song, Li, and other solders' family members who supported all the army officers at their post as they protected the country. He said that they independently take good care of their households, despite the long-term isolation between them and their loved-ones.
In addition, Fan also remarked that Song and Li are the first family visits to have ever taken place on the island, and their moments of happiness captured on camera will later be displayed in the exhibition hall.
Li Weina and her husband Cheng Jiapeng pose for a wedding photo at Zhongjian Island. [81.cn]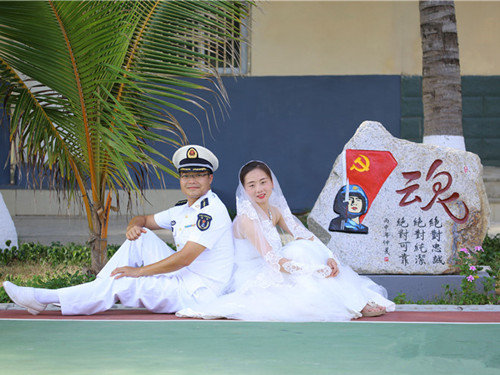 Li (right) in wedding dress and Cheng in his navy uniform sit back to back against the background of a symbolic stone on the island. [81.cn]
Li (left) leans on Cheng's shoulder whilst he is on duty. [81.cn]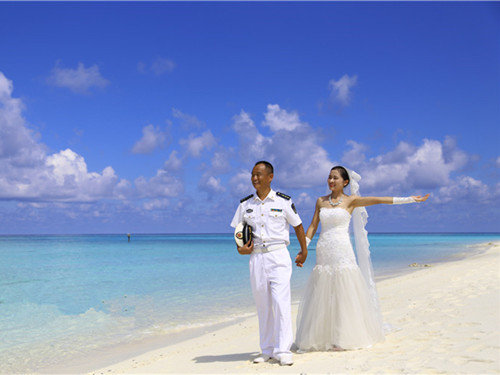 Song Ruiya and her husband Bai Junfei walk on the beach of Zhongjian Island. [81.cn]
Song and Bai shoot wedding photos on an embankment. [81.cn]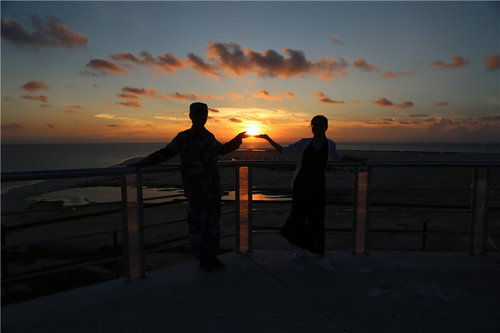 Song (right) and Bai (left) touch fingers whilst watching the setting sun together by the beach. [81.cn]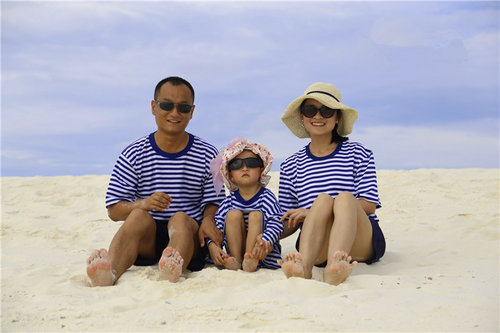 A family photo of Song, her husband Bai and their daughter sitting on the beach. [81.cn]
(Source: Xinhua /Translated and edited by Women of China)