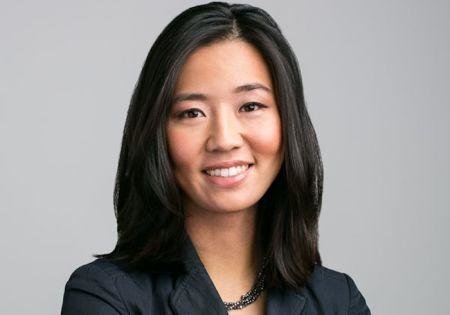 Michelle Wu [news.qq.com]
Michelle Wu, 30, originally from southeast China's Taiwan Province, was elected unanimously as president of the Boston City Council, the U.S., on January 4.
Wu is the first Asian-American and third woman in the body's 106-year history to hold the president's seat.
"This is an exciting day. The city council is injected with new blood, and she is so experienced," said Mayor Martin J. Walsh during the swearing-in ceremony.
The council also welcomed two new women, markedly changing the gender and racial makeup of a body the mayor said "will be forever identified with a new era in Boston's history."
Wu previously won the title of U.S. Presidential Scholar, "one of the Nation's highest honors for high school students, "according to officials. She graduated from Harvard Law School under the guidance of Sen. Elizabeth Warren, the first female Senator from Massachusetts.
After working on Warren's Senate campaign, Wu embarked on her own election journey in 2013 and won an at-large seat in 2014. When re-elected in November 2015, she set out to run for the president's position, standing out among the eight campaigners.
"I knew there was something special about her," Warren said. "What I learned over time is that she's not just a woman full of good ideas and a passionate heart, but a woman who gets out and does the hard work that needs to be done to make a difference."
In her first speech as president, Wu called for an end to income inequality, for criminal justice reform and for improved education opportunities. Also, she vowed to tackle climate change.
"Lack of opportunity has led to stark divisions in Boston," Wu said. "In this context, government's efforts are more crucial than ever before."
(Source: China Women's News/Translated and edited by Women of China)