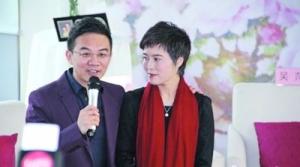 CCTV anchor Lang Yongchun and his wife hold a launch event for their collaborative efforts on the book Love, Yongchun, in Beijing on February 14, 2014. [news.163]

Lang Yongchun, a China Central Television (CCTV) anchor for the 7:00pm news program Xinwen Lianbo, and his wife Wu Ping recently released their collaborative book Love, Yongchun, detailing the story of Wu's battle with cancer.

Wu Ping, Lang's classmate at the Beijing Broadcasting Institute (now the Communication University of China), married to Lang in 1997, and was tragically diagnosed with breast cancer in 2010. This occurred shortly before Lang began hosting Xinwen Lianbo, the most watched news program in China, which also receives an international broadcast.

"I unexpectedly found my wife researching about the effects of breast cancer on her iPad after I was assigned to Guangzhou (capital of south China's Guangdong Province) to report on the 2010 Asian Games," said Lang. "She told me she had been concealing her illness for fear of affecting my work reporting on the games."

Lang hid his sadness and encouraged Wu to fight against the disease. "Don't worry. Breast cancer is relatively easy to cure and 90 percent of patients survive for at least five years if they receive the right treatment in a timely fashion."

"As a man, I have a responsibility to ease family burdens. If I break down, the family will collapse. It is just like a row of dominoes and I am the first one," Lang added.

"It was the first night that I managed to sleep soundly after I was diagnosed with cancer, because I knew I needed to stay alive for him," said Wu.

"My life is closely linked to my husband's who is a kind-hearted, simple, hard-working, detail-oriented and accountable man. He influences me and supports me," Wu wrote in the book.

The breast cancer spread to Wu's liver in 2011. Wu recalls in the book that at first Lang didn't talk to her about her condition, but Wu noticed a change in her usually talkative husband, who had become restless, yet quiet and sullen..

"I was considering how to solve the problem, because evading the question wasn't helping either of us," said Lang. Eventually, Wu went to the US to get treatment. Their son Lang Yu gave up the opportunity to study at a prestigious Beijing-based middle school and accompanied his mother to be by her side in the US.

Lang and Wu respectively documented their reflections on family, marriage and education during this period.

Lang pointed out that when people were faced with death, the saddest thing is the prospect of losing their family, rather than money, honor or status.

On January 1, 2014, Lang disclosed on his we-media profile that if his wife, who has been receiving treatment for around two years at this point, will have to face a series of great challenges in 2015, not least of all the prospect of dieing if her disease deteriorates.

Lang asked himself how he and his family should face up to his wife's life-threatening illness. He led them to better understand the meaning of life and death.

Luckily, Wu said on her Weibo account that her condition was under control according to her latest checkup, conducted in Beijing during this year's Spring Festival, and she thanked the people who encouraged and supported her.

Lang admitted that everyone, including himself, has a fragile side, though they try hard to hide it. "When I read the check-up report of my wife who was suffering from this deadly disease, I would spend whole nights crying. However, I have to be strong and optimistic instead of abandoning myself into an endless sadness."

Lang stressed that his family life over the past four years was sweet, even though there were times when they tended towards pessimism in the face of this devastating illness.

When asked whether he felt happy, Lan replied, "The happiness I feel is different from that felt by others. My happiness is full of difficulty and setbacks and the progress that we made in the process of handling these challenges is our happiness."

(Source: news.163/Translated by womenofchina.cn)
Please understand that womenofchina.cn,a non-profit, information-communication website, cannot reach every writer before using articles and images. For copyright issues, please contact us by emailing: website@womenofchina.cn. The articles published and opinions expressed on this website represent the opinions of writers and are not necessarily shared by womenofchina.cn.