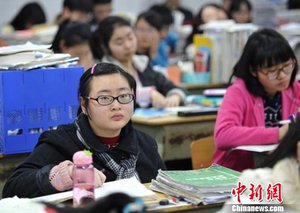 Wang Jingdan studying in class. [chinanews.com/Liu Zhongjun]
It is 80 days before the national college entrance exam. Wang Jingdan, 18, who has cerebral palsy, is fighting for her dream to attend college with the help of her mother who quit her job and accompanies her to school each day, as she has done for the past five years.
"Apart from studying, my favorite thing is basketball, especially NBA star Tracy McGrady. I appreciate the sportsmanship," said Wang who lives in Meishan City in southwest China's Sichuan Province.
Wang was diagnosed with cerebral palsy, a congenital disorder which affects the parts of the brain that control movement, balance, and posture, when she was born. Her father, a physician, and her mother, a nurse, took her to see doctors, but they were offered very little hope.
Thereupon, little Wang started out on the hard task of rehabilitation training. She was tied onto an iron support to practice walking for several hours under the supervision of her mother, Huang Lipeng. "Regardless of the weather, I urged her to practice even if she didn't want to," said Huang.
Wang fell over a great many times. However, with her long-term persistent training, she had fewer and fewer falls and could walk farther and farther.
When she grew older, Wang attended the local school with the company of her family members. From holding a pen to writing, she exerted painstaking effort.
When Wang attended grade two at Meishan Dongpo Junior High School, her parents couldn't balance their work with looking after her. As a result, her mother quit her job while her father worked to support the family.
"In the old days, people accompanied the Crown Prince to school. Nowadays, my mother accompanies her princess," joked Wang. Her mother's love has become the driving force for her to move ahead.
In 2013, Wang was accepted into Meishan No. 1 Middle School.
"In the beginning, as her hands can't move freely, Wang wrote slowly, making her an average student. However, with her hard work, she topped her class in English with a score of 134 at the end of last semester," said her head teacher, Ye Mei. "It's a miracle for a student with cerebral palsy."
The young learner's diligence has impressed her teachers and fellow-students. Her mother has been allowed to take rests in the teachers' office when Wang attends class. "Thanks to the school's special permission, I can support my daughter outside her class to breathe fresh air, stretch her legs and go to the toilet," said Huang.
In order to realize her college dream, Wang has devoted all her effort and energy while her mother has been supporting her to fight for her dream with great maternal love.
Wang is about to embrace the national college entrance exam in June 2015. Hopefully, she can overcome her difficulties and make her dream come true.
(Source: chinanews.com/Translated and edited by Women of China)