A group photo of the participants of the campaign held in Northwest China's Shaanxi Province. [Women of China/Fan Wenjun]
To mark the 70th anniversary of the founding of the People's Republic of China (in October 1949), the Publicity Department of the All-China Women's Federation (ACWF) and the Social Network Bureau, under the Office of the Central Cyberspace Affairs Commission, on September 2 implemented a campaign to highlight Shaanxi's achievements in improving women and children's livelihoods. The ceremony to launch the activity was held in Ningqiang, a county in Hanzhong, a city in Northwest China's Shaanxi Province.
A group, composed of reporters and editors of various media outlets and several Internet moguls (from different regions of the country), from September 2-6 visited several counties and towns in Shaanxi, to learn about the regions' efforts to increase production and eradicate poverty. The group also learned about the achievements of the women's federations, at the grass-roots level in the regions, in improving work involving women and children. Within a few days, the group's inspection tour of Shaanxi became a hot topic among Chinese netizens.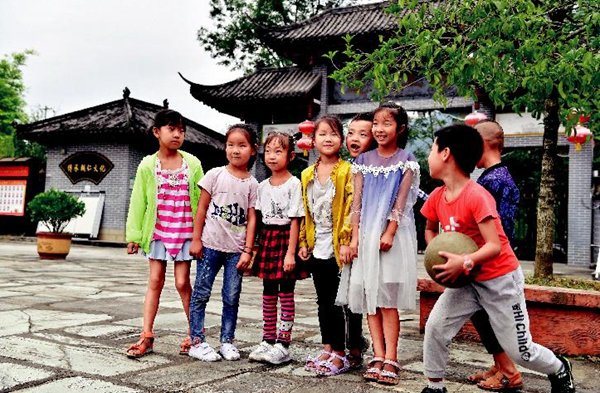 A photo of the local children [Women of China/Fan Wenjun]
Improving Children's Education
The group on September 2 visited Furen Middle School, in Qingmuchuan, a mountain town in Ningqiang. The school, which was established in 1947, provides primary and junior middle school education to children. The group's members were impressed by the school's excellent facilities . Given the financial support from Shaanxi Women's Federation, the school established a rural children's palace and activity center. "The children can take part in various fun activities (at the palace and/or center), including music, dancing and painting, as many urban children do," a member of the group wrote in his microblog.
The group also visited Chihe (a town in Shiquan, a county in Shaanxi) Home for Women and Children. The home has a library, a gym and a psychological counseling room. The home in recent years has conducted various activities to help and care for children, especially those whose parents have left home to work elsewhere.
The group members recorded, through words, photos and/or videos, the important roles of Qingmuchuan and Shiquan women's federations in improving children's education. Many netizens offered positive comments about the federations' efforts to promote children's education.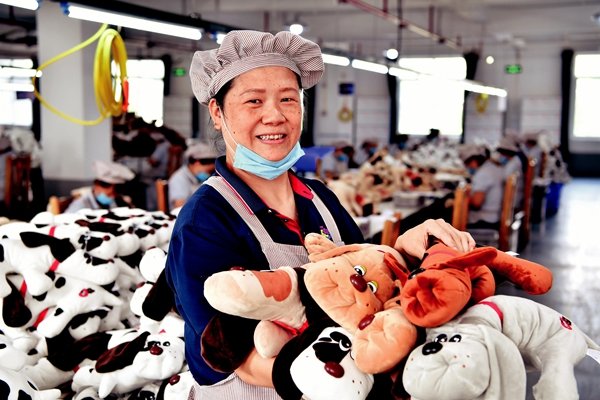 A woman worker at a toy factory [Women of China/Fan Wenjun]
Helping Women Escape Poverty
With the support of Ningqiang Women's Federation, the county established a base, used to help women start businesses. "More than 10 disabled women learned how to create Qiang-styled embroideries at the base. Now, every woman can earn more than 3,000 yuan (US $ 429) a month by creating embroideries," Zhu Yi, a professor with China Agricultural University, who was one of the Internet moguls (in the group), wrote in her Weibo (Chinese equivalent of Twitter).
Many women in Ningqiang, Shiquan, Ziyang and other counties in Shaanxi have escaped poverty through hard work, as the federations in recent years have implemented poverty-alleviation projects in the counties. For example, Ziyang has provided training to women residents, to help them improve their professional skills (including cooking, tea-making and housekeeping skills).
Shen Chunyan, 45, is head of the craft workshop, under Heng'an Toys Co., Ltd., in Ankang, a city in Shaanxi Province. Soon after she learned Ankang had established the company, she returned home to work for the company. "Our company has provided job opportunities to impoverished residents and left-behind women (whose husbands have left home to work elsewhere). As the women work near their homes, they can take care of their parents and children," says Shen.
Now, many impoverished women in Ankang have jobs and/or their own businesses near their homes. The women's happy lives can be attributed, in part, to the efforts of the women's federations, at all levels in Ankang, to cooperate with various organizations, including communities, enterprises and administrative departments for employment, to provide training to the women, to help them improve their professional skills.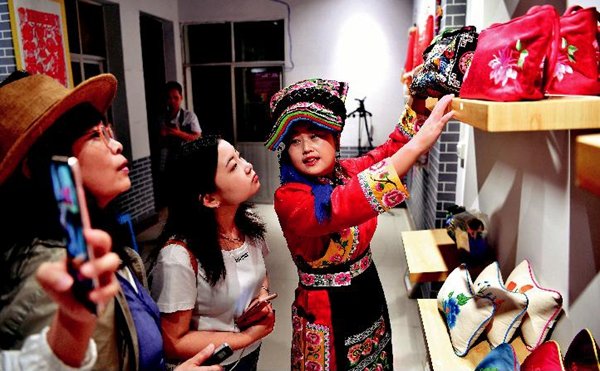 A craftswoman show her handmade crafts [Women of China/Fan Wenjun]
'Yeast Effect'
The group members were impressed by the stories of several women entrepreneurs in Pingli, a county in Ankang. The women are all members of Pingli Women's Career Development Association, established by 176 self-made women entrepreneurs in August 2016 . The association's members during the past three years have tried their best to help impoverished women escape poverty, while the members have developed their businesses, including tea and food production, and crops and/or fruit cultivation.
The Internet moguls also offered positive comments to the women online shop owners (in Ziyang), who in recent years have organized online and offline activities to promote the sales of farmers' agricultural products. The farmers, who earned a considerable profit from the products, showered praise on the women owners.
Yu Gaoyan, a pediatrician from Shanghai, and one of the Internet moguls, was proud of the women entrepreneurs, who realized, through their painstaking efforts, their dreams of getting rich through hard work. Yu commented online: "Better return to your hometown to start a business than work elsewhere, feeling lonely and homesick."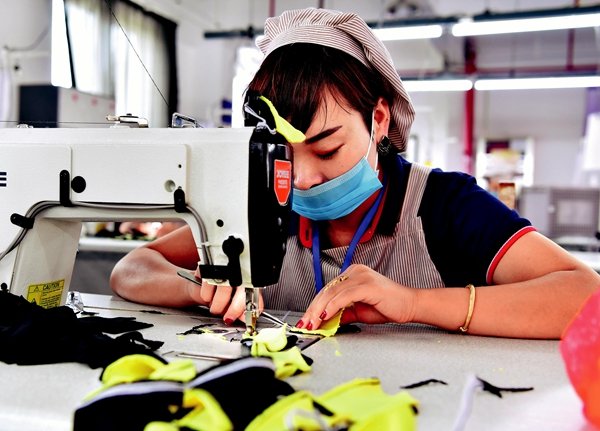 A woman worker is at work. [Women of China/Fan Wenjun]
During their visits to various regions in Shaanxi, the group's members realized the local women's federations have played roles in encouraging women, who are skilled producers, to help impoverished women better their production skills, so the women can escape poverty through hard work. The fact that a skilled producer may help many impoverished women get rich is somewhat like "yeast effect."
"I have been impressed by Shaanxi women's bright smiles and their resolve to improve their lives through hard work," Shao Xiaozhou, an associate professor with Yangzhou University, and one of the Internet moguls, commented. "The women's federations, at all levels in Shaanxi, have helped many impoverished women boost and/or production skills, many of them have lived better lives. Indeed, women are a major force in promoting implementation of China's poverty-alleviation policies in rural areas."
Through the moguls' online records, many netizens have gained a better understanding of the federations' important roles in helping women improve their lives. The netizens have also realized tremendous changes have taken place in many villages (across the country), as the ACWF has carried out a national campaign (since February of 2018) to mobilize Chinese women to contribute to China's rural revitalization strategy.
Women pick tea leaves at a tea garden. [Women of China/Fan Wenjun]
(Women of China English Monthly October 2019 issue)