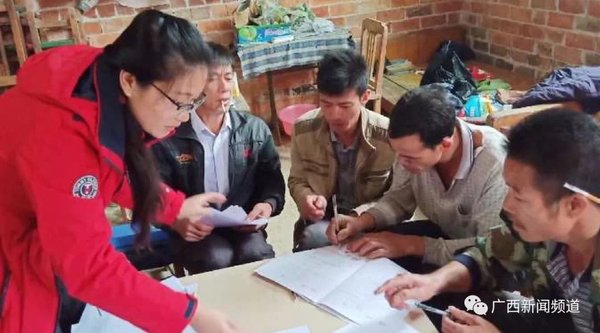 File photo: Huang Wenxiu (1st, L) at a meeting with fellow villagers [Official WeChat account of Guangxi News]
The All-China Women's Federation (ACWF) recently decided to confer the National March 8th Red-Banner Holder on Huang Wenxiu posthumously.
Huang Wenxiu was the First Secretary of Baini Village, Xinhua Town, Leye County, Baise City in South China's Guangxi Zhuang Autonomous Region.
The 30-year-old official at the grassroots level had led the 88 households of the local village to shake off poverty. She passed away in a flash flood in Lingyun County on her way back to the village in the early morning of June 17.
File photo: Huang Wenxiu (C) visits a family in the village. [Official WeChat account of Guangxi News]
This award is to commend Huang for her high political responsibility and hard work in a down-to-earth way regardless of fame or money, and in recognition of Huang's dedication to working closely with her fellow villagers for fighting against poverty.
Huang's life was short, but she is an excellent example of young women officials with responsibility and achievement, and those women in the new era who stay true to the Party's founding mission. She is a role model for women in the new era to bear in mind one's own mission to serve the people.
The ACWF calls on women to learn from Huang in terms of her loyalty and faith to the Party, her great concern for the people, her selfless devotion and her lofty pursuit.
More than 100 people attended Huang's funeral, bidding farewell to her in Baise City on June 22. Her colleagues, friends and villagers in Baise were all present. Teachers and students coming from Beijing Normal University, Huang's Alma Mater, also arrived at the funeral to extend their condolences.
(Source: Xinhua/Translated and edited by Women of China)