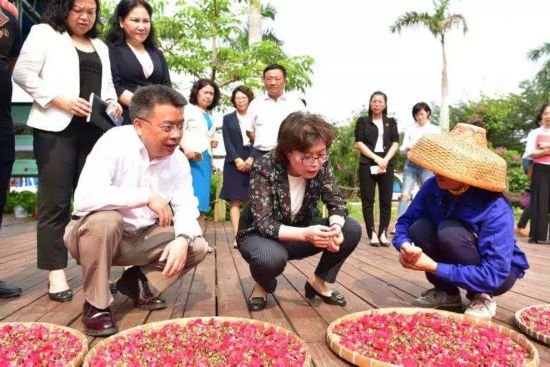 Huang (C) talks with a local farmer in Hainan. [China Women's News]
Huang Xiaowei, Secretary of the Leading Party Group of the All-China Women's Federation (ACWF) and Vice-President and First Member of the Secretariat of the ACWF, led a delegation to inspect progress in the work of women's development in south China's Hainan Province, on April 15-18.
The delegates visited women's federations at the community level and surveyed implementation of the spirits of the remarks President Xi Jinping made when he met with members of the newly elected leadership of the ACWF last November.
Huang publicized Xi Jinping Thought on Socialism with Chinese Characteristics for a New Era and Xi's important remarks on women and women's development when she communicated with local women.
She urged women's federations to not only give women knowledge and pass on skills, but also make restless efforts in ideological and political guidance. The federations should also encourage women to pursue their dreams.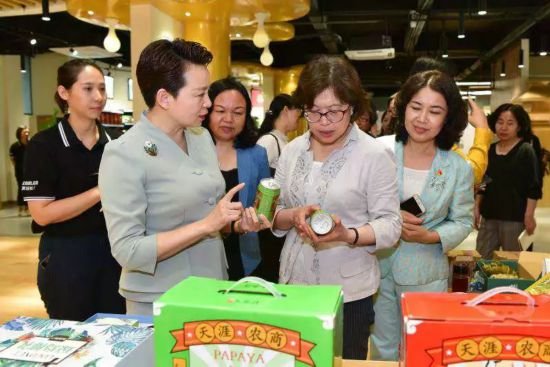 Huang (R, Front) gets a closer look at local agricultural products in Hainan.[China Women's News]
Huang said Party building should help facilitate the construction of women's federations when she learned that women's federations have been established in emerging industrial clusters, such as a tourist service center in Haikou, a duty-free shop in Sanya City and Yalong Bay International Rose Valley.
She hoped women's federations at all levels in Hainan will motivate women's innovation and entrepreneurship, participation in social governance and family tradition construction.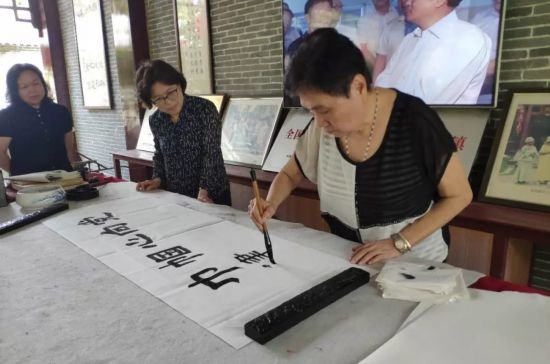 Huang (C) looks on as a woman writesChinese calligraphy.[China Women's News]
During her inspection tour, Huang held a meeting with officials of grassroots women's federations and local women, and she spoke highly of the CPC Hainan Provincial Committee's attention on promoting women's development and the achievements made by local women's federations.
She pointed out that all the women's federations should study and implement the spirit of Xi's important remarks, implement the basic national policy of gender equality, safeguard women's rights and interests, and deepen their own reform.
She urged the officials and executive committee members of women's federations as well as women representatives to further improve their abilities to perform duties.
(Source: Women of China)