Attendees at the eighth session of the 11th executive committee of the All-China Women's Federation [women.org.cn]
The All-China Women's Federation (ACWF) held the eighth session of its 11th Executive Committee and the 12th session of its Standing Committee from September 27-28 in Beijing
The meetings aimed to act on Xi Jinping Thought on Socialism with Chinese Characteristics for a New Era and implement the spirit of the 19th National Congress of the Communist Party of China (CPC).
The meetings were also held to put into practice the instructions made by the Secretariat of the CPC Central Committee on the preparatory work of the 12th National Women's Congress of China (NWC).
Shen Yueyue, Vice-Chairperson of the Standing Committee of the National People's Congress (NPC) and President of the ACWF, presided over the event and delivered an important speech on the occasion.
During the conference, Huang Xiaowei, Secretary of the Leading Party Group of the ACWF, was elected as Vice-President and First Member of the Secretariat of the ACWF.
Huang also chaired the third plenary meeting of the eighth session of the ACWF's 11th Executive Committee.
Meanwhile, attendees at the conference finalized the draft work report for the 12th NWC, passed the Amendments to the ACWF's Constitution (draft), and endorsed 10 women as new members for the ACWF's 11th Executive Committee.
Those present at the conference included Zhang Xiaolan, Reziwan Aibai, Jin Nuo, Cheng Hong, Xie Ru, Xia Jie, Yin Hong, Deng Li, Tan Lin, Song Yushui and Liu Yang, all Vice-Presidents of the ACWF, along with members of the ACWF's 11th Executive Committee.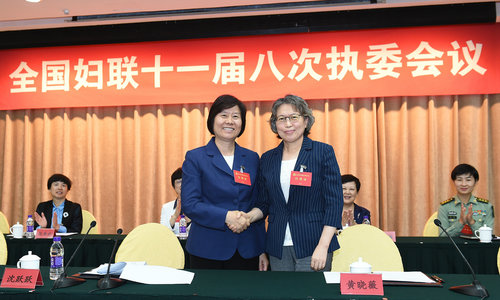 Shen Yueyue and Huang Xiaowei shake hands at the meeting. [women.org.cn]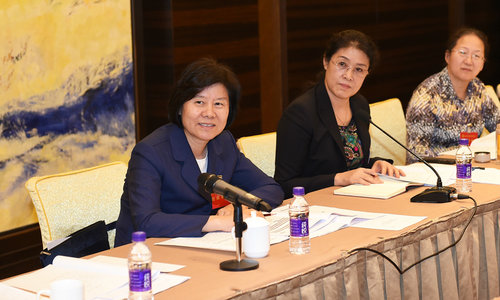 Shen Yueyue (L1) at the meeting [women.org.cn]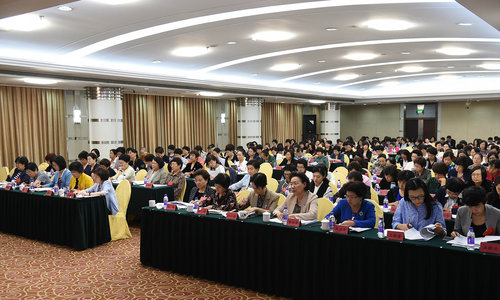 Delegates at the meeting [women.org.cn]
(Source: women.org.cn / Translated and edited by Women of China)