Participants at the opening ceremony [ishaanxi.com]
The Silk Road on Fingertips — International Women's Handicraft Development Forum was held at a ceremony held in Xi'an, capital city of northwest China's Shaanxi Province, on May 11.
As an important event held on the sidelines of the Third Silk Road International Exposition, the two-day forum was jointly hosted by the All-China Women's Federation (ACWF) and Shaanxi Provincial People's Government under the support of Shaanxi Women's Federation and Xianyang Municipal People's Government.
During her speech at the opening ceremony, Song Xiuyan, Vice-President and First Member of the Secretariat of the ACWF, said that the forum was aimed at closely following the golden rules of "extensive consultation, joint contribution and shared benefits" elaborated by Chinese President Xi Jinping concerning the Belt and Road (B & R) initiative, further strengthening women-centered people-to-people exchanges and mutual learning amongst different civilizations, as well as rallying more support from women of all relevant countries in the future development of the B & R initiative.
Song continued that China has had a long history of traditional handicraft and the development of the handicraft business has created a fresh channel for many rural women to get employed near home and increase their family income at the same time.
She stressed that the blueprint for China's development in the following several decades, elaborated by President Xi at the 19th National Congress of the Communist Party of China (CPC) in October last year, has demonstrated the country's sincere willingness to work with all nations in the building of a community with a shared future for humankind.
Song concluded her speech by hoping that the forum would further facilitate an exchange of experiences concerning development, unifying women's power, boosting the communication between different civilizations, inheriting and promoting the spirit of the Silk Road in a drive to build a community for a shared future for humanity.
He Rong, deputy secretary of Shaanxi Provincial Party Committee, said that handicrafts have become an important carrier for women to set up their own business ventures, find employment, and promote the development of traditional Chinese culture.
He noted that as key players, creators and inheritors in the worldwide growth of the handicraft industry, women have utilized their personal charm and hard work to advance social development and progress over the past decades. She added that it is women's joint aspiration and responsibility to integrate personal wisdom into the B & R initiative and contribute more efforts to the endeavor.
The gathering drew the attendance of officials from 14 countries such as the UK, France and India; representatives of professional handicraft associations; domestic folk artisans and researchers in the field of Silk Road culture.
They held discussions over the functions played by women's engagement in handicraft businesses to cultural inheritance, international exchange, employment and entrepreneurship.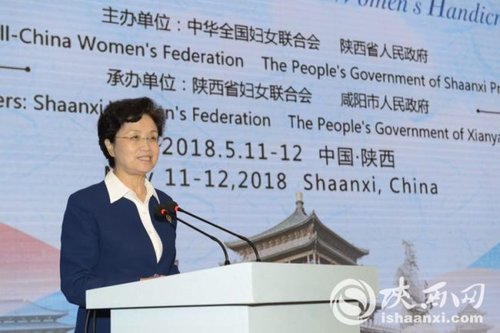 Song Xiuyan gives a speech at the opening ceremony. [ishaanxi.com]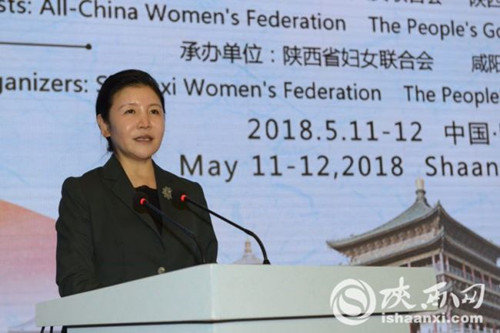 He Rong delivers a speech at the opening ceremony. [ishaanxi.com]
Attendees at the opening ceremony [ishaanxi.com]
(Source: China Women's News/Translated and edited by Women of China)