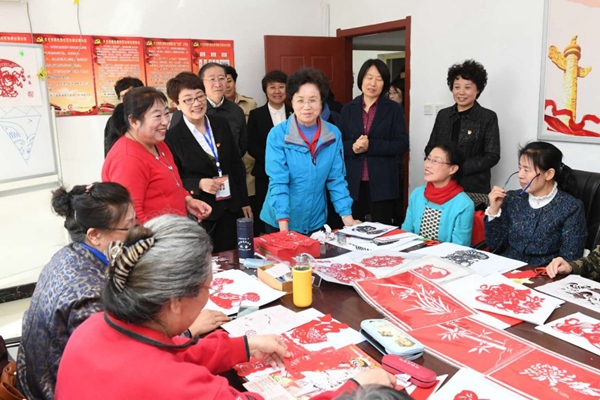 Song Xiuyan participates in an activity organized by a women's federation in Liaoning. [Women Voice]
Song Xiuyan, vice-president and first member of the Secretariat of the All-China Women's Federation (ACWF), led a delegation to cities such as Jinzhou, Panjin and Shenyang in Northeast China's Liaoning Province in order to survey progress in carrying out various policy points and theoretical study. What's more, they aimed to motivate women to contribute their strength to major strategies such as rural revitalization.
During the survey, Song carried out in-depth investigations among different groups of women, walking into farmyards, cooperatives, vegetable greenhouses and women's e-commerce services bases.
With face-to-face communication about the work and reform progress of the women's federations, they discussed methods to push forward the innovative reforms of the women's federations to promote women's unique role in development.
In Yixian County Jinzhou, there are 15 executive committees of women's federations who spare no effort in helping local females escape poverty. "Yards Environment Rating" has been held in Panshan County, Panjin, which promotes the construction of beautiful countryside.
Song was more than delighted to see the great achievements of the women's federations in Liaoning greatly supported by Liaoning Provincial Party Committee. She also pointed out a series of demands for future work.
She emphasized the necessity of studying Xi Jinping Thought on Socialism with Chinese Characteristics for a New Era and the spirit of the 19th National Congress of the Communist Party of China. The women's federation should uphold the leadership of the Party and support the implementation of major national policies.
In addition, women's influence on family and society should be inspired to achieve a high-quality development and well-off society, which requires women's federations to lead women to catch up with the times.
Song pointed out that the key of women's federation reform lies in the grassroots, so they should try to involve as many women as possible in their knowing and joining in the organization through enriched and colorful activities.
It is necessary to train members of executive committees of women's federations and promote their awareness and ability to fulfill their duties. To make their work more energetic, Song suggested focuses of work should be clearly identified so as to provide what the government hopes for and what women truly need.
Song Xiuyan listens to the introduction of a newly-devised product. [Women Voice]
Liaoning Museum of Women's Poverty Alleviation. [Women Voice]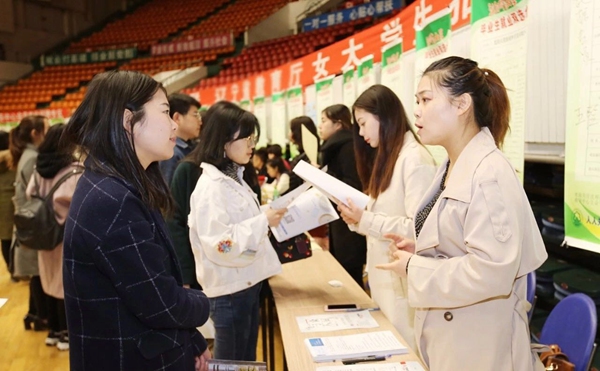 Female college students learn employment information. [Women Voice]
(Source: Women Voice/Translated and edited by Women of China)