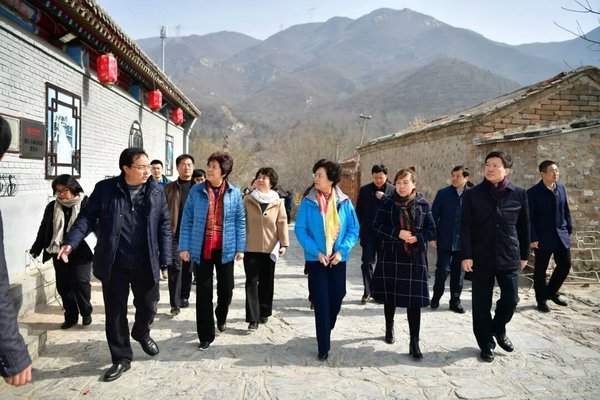 ACWF officials conduct field investigation of the implementation of the Women's Action of Rural Revitalization strategy in Beijing. [Women Voice]
Vice- President of the All-China Women's Federation (ACWF) Song Xiuyan, who is also Secretary of the Leading Party Group and First Member of the Secretariat of the ACWF, took a trip to Yanqing District of Beijing from March 13 to 14 for field investigation of the implementation of the Women's Action of Rural Revitalization strategy.
The strategy aims to urge women's federations to fulfill their duties, help rural women better play their "half-of-the-sky" roles, and mobilize them to dedicate themselves to improving the countryside.
Song listened to proposals on implementing the strategy by rural residents and grassroots officials via surveys, interviews and symposiums.
Song noted three main points during the trip.
First, she said the Rural Revitalization strategy proposed during the 19th National Congress of the Communist Party of China (CPC) is a major policy devised by the CPC Central Committee headed by Party General Secretary Xi Jinping.
Second, Xi made a series of speeches at the end of 2017 at the Central Rural Work Conference, which elaborated on the major theoretical and practical issues on the way to a socialist rural revitalization with Chinese characteristics.
Third, Xi proposed clear requirements toward rural revitalization on March 8 at the deliberation of East China's Shandong delegation during the first session of the 13th National People's Congress.
Song subsequently put forward four demands.
First, women's federations at all levels should be guided by the Xi Jinping Thought on Socialism with Chinese Characteristics for the New Era and officials should mobilize rural women at the same time.
Second, officials of women's federations should improve the comprehensive ability of rural women so that they can better participate in rural revitalization.
Moreover, officials should promote the "Beautiful Home" building activity to encourage locals to jointly build eco-friendly new farmhouses.
Furthermore, officials should expand the Looking for Most Beautiful Families campaign to promote rural civilization and continue poverty-alleviation efforts, Song concluded.
(Source: Women Voice/Translated and edited by Women of China)