Song Xiuyan (L1 center) meets Argentinean officials. [CRI Online]
At the invitation of a political party from Argentina Republic, Song Xiuyan, Secretary of the Party Leadership Group of the ACWF, headed a delegation to visit Argentina from December 17-19.
Song, also Vice-President and First Member of the Secretariat of the ACWF, met with several senior Argentinean officials and addressed a meeting in Buenos Aires.
During the session, Song promoted the spirit of the 19th National Congress of the Communist Party of China (CPC) which was held in Beijing from October 18-24.
Song gave a comprehensive introduction to the spirit and achievements of the CPC Congress among representatives from political parties, councils, think tanks and media in the South American country.
The significance of the Congress was to include Xi Jinping Thought on Socialism with Chinese Characteristics for a New Era as a guide for action into the CPC Constitution, noted Song.
The continuous development of socialism with Chinese characteristics in regard to the path, theory, system, and culture has provided new choices and useful lessons for those countries that want to speed up progress whilst maintaining their independence, said Song.
President Xi, who is also General Secretary of the CPC Central Committee, with his concept of building a community with a shared future for mankind, along with the Belt and Road Initiative, has provided an important guide toward promoting cooperation between China and other countries, Song added. Song also answered questions from attendees.
Argentinean officials said the CPC Congress is of great significance for both China and the world. They spoke highly of the achievements and experience of the CPC in governing the country.
Under the leadership of the CPC Central Committee with Comrade Xi as its core, China will further improve its international influence and embrace a bright future, noted an Argentinean official.
Argentina is looking forward to strengthening cooperation with China in various sectors and promoting the China-Argentina relations for the benefit of people in both countries.
During her visit, Song presented Argentinean officials with the second volume of Xi Jinping: The Governance of China as gifts.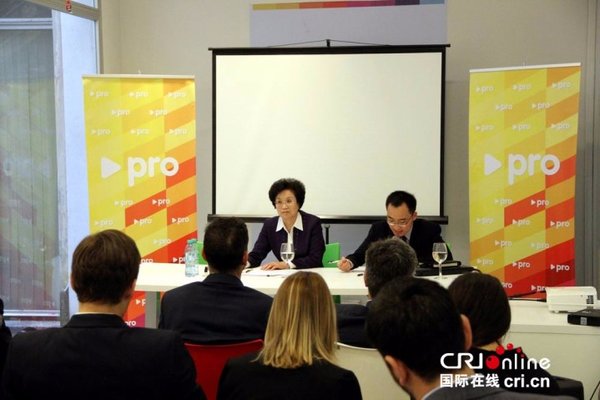 Song Xiuyan (L center) promotes the spirit of the 19th CPC National Congress in Buenos Aires. [CRI Online]
(Source: CRI Online/Translated and edited by Women of China)