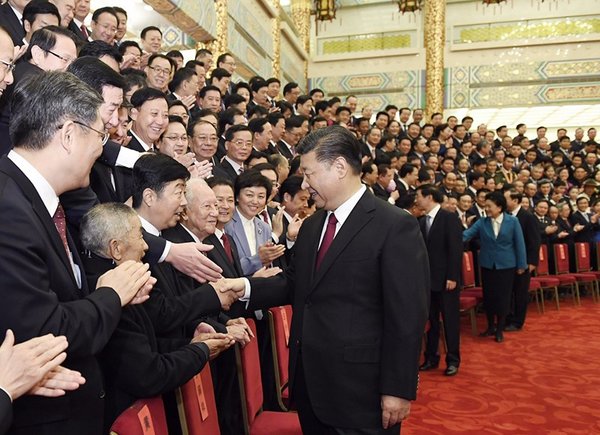 President Xi Jinping meets representatives attending the award ceremony on ethical role models and pioneers in Beijing, capital of China, November 17, 2017. [Xinhua/Li Xueren]
The Party leadership group of the All-China Women's Federation (ACWF) held a meeting on December 1 to highlight the role of women's federations in participating in the nation's cultural-ethical development in the new era.
Song Xiuyan, vice-president and first member of the Secretariat of the ACWF, presided over the conference. She conveyed the keynote remarks made by President Xi Jinping and senior officials at a recent award ceremony on ethical role models and pioneers.
President Xi, also general secretary of the Central Committee of the Communist Party of China (CPC), met representatives attending the award ceremony in Beijing on November 17.
Awardees were recognized for their outstanding experience in helping others, acting bravely for a just cause, being honest, devotion to their work or showing filial piety and love for their family, Xinhua News Agency reported.
Song urged officials to complete their primary political task of promoting and implementing the spirit of the 19th National Congress of the CPC, which was held in Beijing from October 18-24; make it a top priority to study Xi Jinping Thought on Socialism with Chinese Characteristics for a New Era; carry out activities infused with the characteristics of the women's federation; and, act in line with the core socialist values throughout their overall work.
President Xi has paid much attention to the socialist ethical-cultural development and set a strong example in respecting ethical role models, Song said.
Song also urged officials to fully study the remarks by Wang Huning, member of the Standing Committee of the Political Bureau of the CPC Central Committee and head of the Central Commission for Guiding Cultural and Ethic Progress.
The statement by Wang is a conclusion to Xi's remarks on the initiative in terms of new thoughts, concepts, and requirements and reviewed the historical achievements made during the past five years, Song said.
Four Requirements from Song Xiuyan
The work of the federation is closely related to ethical-cultural construction, Song noted.
The fundamental task of the organization is to nurture and implement core socialist values throughout overall and detailed work aspects.
Organizations should make use of novel themes and approaches in encouraging women to play their unique role in households and society.
Ethical role models can lead women to raise socialist cultural-ethical standards for a new era.
Women's federations must associate ethical advancement with the development of women, children and households, and further support people in attaining a greater sense of participation, achievement and happiness.
Wang Huning (C) speaks at the award ceremony on ethical role models and pioneers. [Xinhua/Li Xueren]
(Source: Xinhua/Translated and edited by Women of China)