Deng Li, vice-president and member of the Secretariat of the ACWF, gives a speech. [Women of China/Fan Wenjun]
The All-China Women's Federation (ACWF) released a report on vocational education development for impoverished girls on October 10 at the opening ceremony of the Spring Bud College program, under the Spring Bud project which helps disadvantaged female students stay in school.
Staff from the China Children and Teenagers' Foundation (CCTF) and China Philanthropy Research Institute (CPRI) at Beijing Normal University conducted research by distributing questionnaires and talking with natives in 158 villages.
Officials travelled through five provinces and region--north China's Shanxi Province, central China's Henan Province, southwest China's Sichuan and Yunnan provinces and northwest China's Xinjiang Uygur Autonomous Region -- over four months.
Deng Li, vice-president and member of the Secretariat of the ACWF, said the launch of the project and the release of the report are helpful to unite more sources to boost girls' development and further push forward poverty alleviation through education.
The report says that vocational education still faces great challenges such as the wide urban and rural disparities, imbalance between demand and supply and the shortage of professional guidance.
Gao Yurong, vice-president of the research institute, said that the cooperation among social organizations, vocational schools and companies can help poverty-stricken female students get easier access to vocational education.
The Spring Bud project has helped 3.45 million girls since its foundation in 1989.
As a part of it, the vocational education program aims to give career planning and financial support to impoverished girls in their studies, especially those in rural, impoverished and ethnic minority areas.
The program's organizers are trying to cooperate with companies and other organizations in a way to offer jobs for students of the project.
Till now, they have signed strategic cooperation agreements with two companies.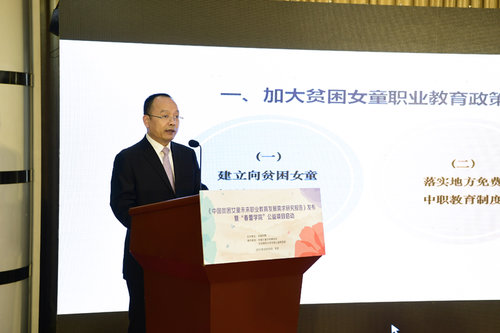 Zhu Xisheng, secretary-general of the CCTF, introduces the report. [Women of China/Fan Wenjun]
An official signs strategic cooperation agreements with a company. [Women of China/Fan Wenjun]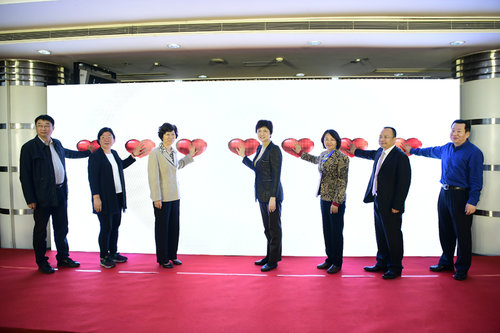 The opening ceremony of the project [Women of China/Fan Wenjun]
(Women of China)