Song Xiuyan (R) shakes hands with Tsogzolmaa Tsedenbal (L). [Women of China/Fan Wenjun]
Song Xiuyan, vice-president and first member of the Secretariat of the All-China Women's Federation (ACWF), met a women's delegation from Mongolia on August 14 in Beijing.
The group was led by Tsogzolmaa Tsedenbal, president of Social Democracy Mongolian Women's Association and member of State Great Hural , who was visiting China at the invitation of the federation.
During the meeting, Song introduced China's economic achievements, social progress, and the development of Chinese women since the 18th National Congress of the Communist Party of China (CPC).
She pointed out that the CPC Central Committee with President Xi Jinping as its core attaches great importance to women's development and has taken precise measures to safeguard and push forward advancement.
Song also mentioned that the Belt and Road Initiative and the new concept of "A Global Community with a Shared Future" that were both proposed by President Xi are set to bring mutual benefits to the two neighbouring countries.
She called on the two nations to adhere to the spirit of these concepts, enhance exchange and cooperation, and promote friendship between the two nations for a shared future.
Song said, "Under the leadership of the Party, the ACWF is currently striving for two State-set 'Centenary Goals' – namely, to build a moderately prosperous society by 2020 and to build a modern socialist country that is prosperous, strong, democratic, culturally advanced and harmonious by 2049.
"The federation is making efforts to embrace the upcoming 19th National Congress with positive results," she remarked.
Tsogzolmaa said she appreciated the meeting with the ACWF and would like to enhance friendship and cooperation between the two countries, especially among women.
She expressed her wish to learn from China's advanced experience in areas of economic reform, social governance and women's causes.
Yang Liu, member of the Secretariat of the ACWF, also held a work meeting with the delegation on the same day.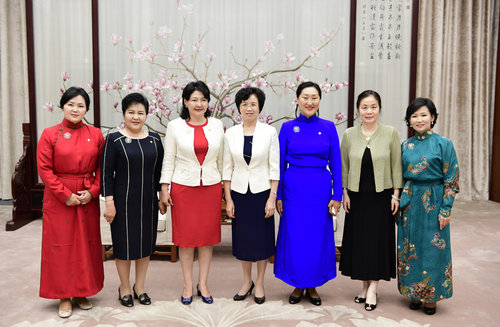 A group photo of the two parties [Women of China/Fan Wenjun]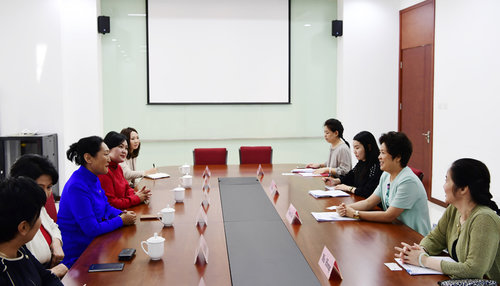 Yang Liu (R2) holds a work meeting with the delegation. [Women of China/Fan Wenjun]
(Source: China Women's News/Translated and edited by Women of China)