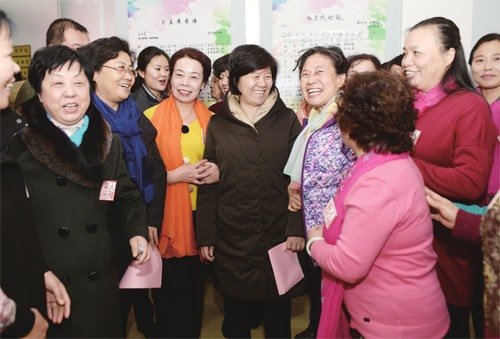 ACWF President Shen Yueyue (C) talks with local women in a community in east China's Shandong Province during an inspection tour on December 29. [China Women's News/Yang Rui]
Shen Yueyue, vice-chairperson of the Standing Committee of the National People's Congress and president of the All-China Women's Federation (ACWF), carried out an inspection tour of east China's Shandong Province on December 29.
During her trip, Shen focused on how the spirit of President Xi Jinping's remarks about promoting family education and family virtues was being carried out among grassroots women's federations in Shandong.
As part of the tour, Shen urged all local women's federations to carefully learn about Xi's recent remarks while playing an active in mobilizing more women and households in the local region to take part in the construction of civilized families.
After arriving at a community in the district of Huaiyin in the provincial capital Jinan, Shen had a friendly discussion with recent winners from the ACWF's Looking for the Most Beautiful Families campaign, along with community volunteers.
Shen noted that the grassroots women's federations in the region should maintain a clear understanding that the family is an important cornerstone for promoting the country's development and progress, and a means for maintaining social harmony.
Shen added that enhancing guidance on family education and deepening the construction of civilized families is of great significance in advancing the country's so-called "Two Centenary Goals" and realizing the "Chinese Dream" of the rejuvenation of the Chinese nation.
When visiting a community where a public parent-child reading activity was being held, Shen said that she was impressed by the warm scene of parents and their children getting together to read picture books about family traditions.
Later, Shen spoke highly of the youngsters' outstanding calligraphy works shown at the activity.
The senior official firmly affirmed the efforts made by Wang Li, president of the community women's federation, in terms of actively conducting events advancing family virtues.
At the same time, Shen expressed her hope that Wang would build further experience in providing local women and families with useful services, and facilitating more families to become civilized households.
"After learning about the community's residents' needs, we have held several debates on whether primary school students should be able to take mobile phones to school, along with other topics," said Chen Yecui, Party secretary of the community in the village of Dianliuxin in the district of Lixia in Jinan.
Listening to Ye's experience in promoting family education, Shen applauded her work methods and said, "Cultivating children's positive character is a fundamental part of youngsters' education, which can prevent bullying and delinquency from the root cause."
Later, Shen participated in an educational tour organized by Shandong Women's Federation, learning about four families' inspirational stories who have won the special title of National Role-model for demonstrating virtues.
Shen said that the educational activity illustrated Xi's latest remarks about the construction of civilized families, which is a vital measure in carrying forward traditional Chinese culture and practicing core socialist values.
Meanwhile, Shen maintained that the educational tour also reflected the Shandong government's emphasis on family's building and the hard work made by the women's federations in the province in this aspect, which she said should be largely promoted in other provinces of the country.
Moreover, Shen exchanged ideas with Jiang Yikang, secretary of the Shandong Provincial CPC Committee and director of the Standing Committee of the Shandong Provincial People's Congress, in terms of how to advance women's employment and development.
Those who accompanied Shen during her inspection tour included: Cui Yu, vice-president and member of the Secretariat of the ACWF and Yu Jiancheng, deputy-director of the Standing Committee of Shandong Provincial People's Congress.
Remarks from Shen Yueyue
Since the 18th CPC National Congress held in 2012, Xi has attached great importance to advancing the construction of families, Shen mentioned.
In the recent meeting to honor role-model families nationwide held in Beijing, Xi stressed the important role of families again, Shen added.
Women's federations at all levels should thoroughly study Xi's speeches in this aspect and consider it as their long-term mission in the deployment of their work to closely follow Xi's footsteps in constructing civilized families, Shen concluded.
Moreover, Shen called on grassroots women's federations to make consistent efforts to advance family virtues by carrying out the Looking for the Most Beautiful Families campaign in the local region.
Shen urged officials of the local government to be honest and upright in their work. Shen explained that people living in cities should be encouraged to lead a low-carbon lifestyle while helping each other out in neighborhoods.
Those living in rural areas are encouraged to only hold simple wedding ceremonies or funeral arrangements, Shen stated.
Shen said that more endeavors should be made to enhance the publicity of family traditions through new media and the internet so as to attract more young and well-educated women to take part and contribute.
Moreover, Shen concluded that organizing family activities is a good way to convey virtues to children, and help them grow up in a healthy manner. Hence, she called on parents to play a leading role in holding regular family activities.
Shen emphasized the importance of strengthening family education guidance to care for children whose parents have left them at home to seek jobs in cities, as well as those from other disadvantaged groups.
Lastly, Shen called for more efforts to adopt various methods to publicize the stories of role-model families in order to attract more people to learn from those households and strive to create their own harmonious family atmosphere.
(Source: China Women's News/Translated and edited by Women of China)