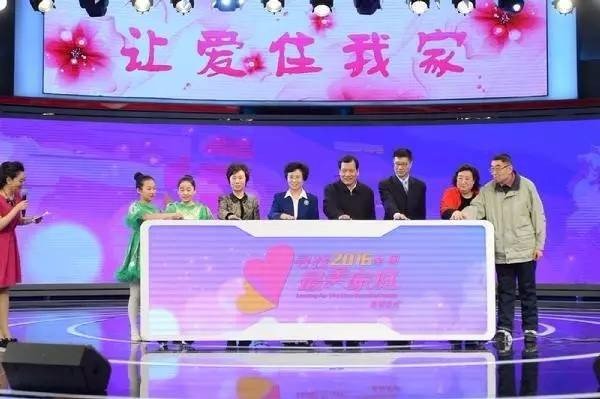 Song Xiuyan (L4), Jiao Yang (L3), vice-president and member of the Secretariat of the ACWF, and other participants attend a TV program promoting the ACWF's initiative Looking for the Most Beautiful Family. [Women Voice]
Song Xiuyan, vice-president and first member of the Secretariat of the All-China Women's Federation (ACWF), spoke about President Xi Jinping's latest remarks on family virtues on December 12 at a conference attended by members of the ACWF Party leadership group.
During the meeting, Song drew particular attention to Xi's keynote speech made on December 12 at an awards ceremony to honor model families across the nation.
Moreover, Song made arrangements for the ACWF to implement the spirit of President Xi's message and highlighted the organization's role in promoting civilized families.
Song's Remarks
"From a strategic and overall perspective, President Xi called on households to regard traditional family virtues as a precious treasure for the promotion of family harmony. The president re-stressed that families should value education as well as their own family culture," reviewed Song.
"The CPC Central Committee with President Xi as its core has paid high attention to family virtues and the happiness of tens of thousands of families, and highlighted the promotion of civilized families," noted Song.
"At the conference, Liu Yunshan, a member of the Standing Committee of the Political Bureau of the CPC Central Committee, stressed the important role of family culture in the country's development, national progress, social harmony and the well-being of the people. Liu also illustrated the fundamental tasks and work focus in promoting family virtues in new circumstances, thus providing powerful directions to combine social efforts in such events," pointed out Song.
"Women are a great force in promoting social civilization and progress. Family is the significant unit to implement core socialist values. Promoting traditional family virtues and nurturing positive family culture are part of the ACWF's key responsibilities," Song concluded.
"In recent years, the ACWF has followed President Xi's instructions and taken the arrangement of the Central Commission for Guiding Cultural and Ethical Progress (CCGCEP) seriously. The ACWF has urged women's federations at various levels to carry out the Five-Good Families and the Most Beautiful Families initiatives; and, promote family education," she added.
"These events serve as a 'reservoir' to further promote the innovative construction of model families nationwide," commented Song.
In addition, Song made a five-point proposal at the meeting.
Studying President Xi's Keynote Remarks
Song urged officials to fully study President Xi's keynote remarks and enhance their job responsibilities in the promotion and cultivation of positive virtues among households.
"President Xi stressed that households should serve as the 'irreplaceable cells of society' and he hoped that families would value education as well as their own family culture," Song reviewed. "The President's remarks are significant parts of his strategic national development theories and thoughts, as well as underscored guidelines in the ACWF's work," commented Song.
"Monday's conference was the first of its kind to honor model families selected nationwide. It marks that China has come under a new period to promote family virtues. We officials are called on to follow President Xi's guide; lead in such initiatives; and take practical actions to the CPC Central Committee," said Song.
Launching the Looking for the Most Beautiful Family Campaign
Song required officials to continue working on the ACWF's initiative Looking for the Most Beautiful Family. "This ACWF action should serve as a solid foundation to the national campaign in promoting Civilized Model Families," urged Song.
Officials should encourage people in the general population to cultivate good culture among families, and play a role in participating in schemes such as Looking for the Most Beautiful Family.
Officials at various levels should take the lead in maintaining family virtues, urged Song.
Incorporating Core Socialist Values into Family Education
Song encouraged households to innovatively incorporate core socialist values into family education.
"Family education is the basis of the household civility as well as a significant channel to spread traditional positive virtues of the Chinese nation," Song pointed out.
Efforts should be made to "guide children to develop the trait of integrity, help them cultivate beautiful minds, and encourage them to nurture and practice socialist core values as part of positive family education," Song pointed out.
"Taking the over 350,000 parenting schools as a platform, the ACWF has organized diverse activities including parent-child reading events, family dramas and Mothers' Classroom training centers, to guide parents, particularly moms, to play their unique role in inheriting family virtues and making socialist core values the root in their families," said Song.
Multiple Exhibitions Sustaining Good Social Ethos
Song urged women's federations to hold multiple exhibitions to promote family virtues and sustain good social ethos. "Family virtues serve as an important symbol of the household civility as well as the embodiment of good social ethos," pointed out Song.
Multiple initiatives of women's federations should involve representatives of model families and volunteers in the event. Participants are encouraged to share their stories concerning such virtues via various approaches. It is hoped that more households could be affected to sustain a "good social ethos," Song suggested.
New Media Coverage
A favorable social environment could be achieved by taking advantage of the internet and new media, suggested Song.
Internet media is an important platform to promote positive family virtues whilst also serving as a "booster for the harmonious social ethos," Song pointed out.
The ACWF's Women Voice news platform, along with over 4,300 local new media accounts run by women's federations, regularly makes use of the latest technologies to publish messages, including such forms as cartoons, animation and videos to enrich their contents, in a bid to increase participation among netizens. It is hoped that women's federations' initiatives on both digital and actual platforms can further boost such events.
(Source: Women Voice/Translated and edited by Women of China)