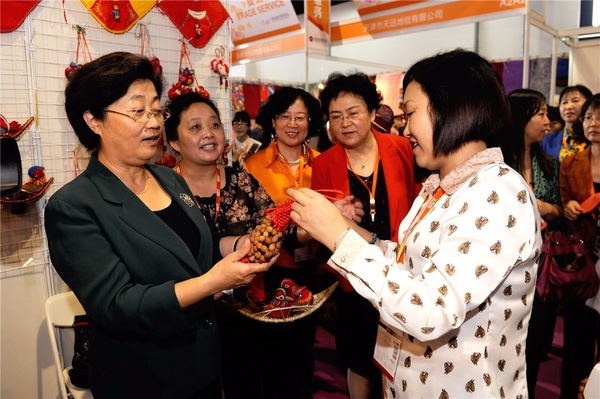 Cui Yu (L1) makes a visit to a local handicraft center during an inspection tour. [Women Voice]
The Poverty Alleviation Forum was held in Beijing on October 16, to coincide with the third China Poverty Alleviation Day which falls on October 17 annually. This year, the forum has an accompanying Women's Forum, which is also the first time Women's Poverty Alleviation was included as a topic for discussion.
The Women's Forum was launched by the All-China Women's Federation (ACWF) and attended by 16 guests from the government, enterprises, and charity organizations. It aimed to establish a win-win cooperation pattern and mainly focused on the industries, skills and welfare of poverty alleviation, said a commentator.
Cui Yu, vice-president and member of the Secretariat of the ACWF, delivered a speech at the forum.
Between talks, Cui pointed out that compared to men, women see graver poverty, less developing capacity and harder poverty-eradication tasks. The ACWF's mission, which is eradicating a billion underprivileged women each year before 2020, is still facing various difficulties and challenges.
There are around 24,850,000 underprivileged women in our country, accounting for 46.5 percent of the total poverty-stricken individuals, reported Cui.
Helping women shack off poverty is one of the major aims of women's federation representatives as well as a fundamental method of maintaining women's living and development rights, pointed out Cui.
The National Women's Poverty-Alleviation Campaign is a recent move carried out by the ACWF and women's federations of various levels to cope with the central government's precision deployment for poverty alleviation, said Cui.
Poverty-alleviation policies should be tailored to women's actual demands; more vocational training sessions should be launched to enhance their poverty-alleviation capacity and self-development, urged Cui.
More financial support such as small loans will be provided to women; women's federations across the country will support women to develop their entrepreneurship in various fields including handicrafts, housekeeping, e-commerce and rural tourism, noted Cui.
Cui further urged women's federations across the country to solve women's practical needs through charity and social welfare by winning over support from the government and society.
Cui explained that the ACWF and women's federations at all levels will continuously promote the National Women's Poverty-Alleviation Campaign, further integrate it into the nation's overall planning and further mobilize the driving force carried by women themselves. Featured industries will be supported by the raising troop from women's federations at grassroots levels.
Cui pointed out the five aspects of experience: involving more women and supporting with policies; enhancing training guidelines as well as improving women's capacity; highlighting financial support whilst empowering underprivileged women; developing featured industries whilst helping with entrepreneurship; underlining the welfare system and solving actual problems.
Developing featured industries is one of the effective methods of eradicating women's poverty. In terms of lacking industries, projects and incomes, Cui urged women's federations to take advantage of local tourism resources and e-commerce platforms to help women increase their revenues.
The Statistics Say
Since the launch of the women's poverty-alleviation campaigns, nearly two thirds of the women's federations at provincial levels have unveiled relevant notices and policies. Therefore, women's federations across the country have won supportive policies and resources.
Meanwhile, with an investment amounting to 14,586 million yuan (U.S. $ 2,157 million), 608,000 women have increased their revenues and 3,670,000 women have benefited.
Allying with the finance department and three other relevant organizations, the ACWF carried out the small loans policy for women. Overall investment in small loans has reached up to 279.4 billion yuan (U.S. $ 41,323,260) from 2009 to June of 2016, benefiting over 5,380,000 women, among which two thirds were located in impoverished areas.
The Two Cancer Relief Fund launched by the ACWF and the China Women Development Foundation (CWDF) has gained 300 million yuan (U.S. $ 44 million) from China's Finance Department. About 54 percent of the fund has been used to establish the filing of tent cards for underprivileged woman who suffering from sickness.
Other Experts' Remarks
"Helping women improve their employability is a long-term process in realizing targeted poverty relief. Empowering women and providing them with financial support are major meatures in mobilizing their initiatives," said CWDF Vice-President Qing Guoying. "We should act consistently with core ideas and evaluating standards throughout the poverty-alliviation process."
"Poverty is not only a 'lack of income'. Issues unrelated to the term of revenue — equal education opportunity, basic health care, social insurance, social involvement and employment — are often ignored by society," said Wang Xiaolin, deputy director of the Information Center of the Poverty Relief Office of the State Council.
Jiang Xiuhua, assistant director of the Institute of Women of the ACWF and Director of the Women's History Research Office, said, "I suggest associating the issue of gender equality with the poverty-alliviation campaign, as it's also one of the nationally important strategies. Officials should make policies adhering to the poverty phenomenon in reality and gender equality, further Institutionalize gender equality as a research approach to poverty and a pattern against poverty."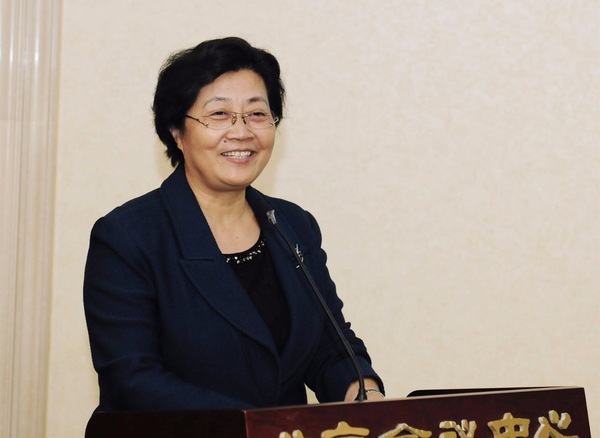 Cui Yu delivers a speech at the forum. [Women Voice]
One of the handicraft workshops launched to increse local women's employment. [Women Voice]
Hand-weaving tutors give instructions to women trainees. [Women Voice]
Women who want to start their own businesses receive their small loan. [Women Voice]
Local women start a plantation business. [Women Voice]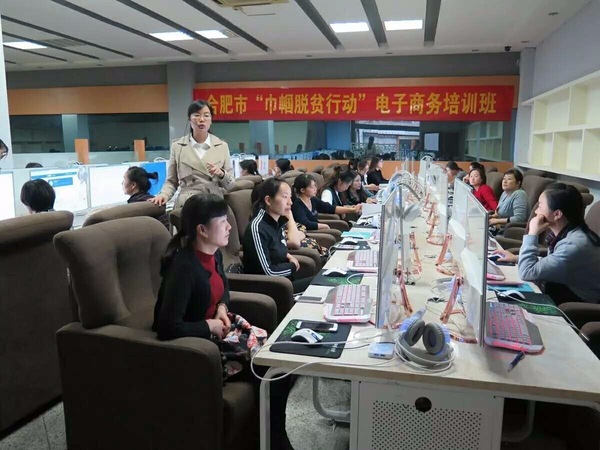 Organizers give free vocational training sessions for local women. [Women Voice]
Organizers give free vocational training sessions for rural women. [Women Voice]
(Source: Women Voice/Translated and edited by Women of China)