ACWF Vice-President Meng Xiaosi addresses the opening ceremony. [Women of China/Fan Wenjun]
An important component of US-China High-Level Consultation on People-to-People Exchange, the 8th China-US Women Leadership Exchange and Dialogue — China-US Women Entrepreneurship Seminar was held in Beijing on June 6, 2016. The seminar was organized by the All-China Women's Federation (ACWF), in collaboration with the Office of Global Women's Issues under the US Department of State and Goldman Sachs 10,000 Women.
Meng Xiaosi, Vice-President and Member of the Secretariat of the ACWF, addressed the seminar's opening ceremony. She said that women "hold up half the sky" of society of mankind and women represent an important drive of innovative development. She outlined the benefits of improving women's entrepreneurship, the achievements Chinese women have made in employment and entrepreneurship, as well as the challenges and barriers women have to cope with. According to Meng, friendly exchanges between Chinese and American women will further enhance women's economic empowerment in both countries and help promote gender equality worldwide.
Stephanie Foster, Senior Advisor and Counselor of the Office of Global Women's Issues under the US Department of State, said during the opening ceremony that women are going to drive the future growth of world economy. If women participate in the labor force globally at the same rate of men's participation in the labor force, the world economy will grow by 28 trillion US dollars, she cited from a research recently done by a consulting company.
During the seminar, three young women entrepreneurs briefed their plans and practices in setting up their own businesses, including building a network to encourage women's participation in sports and entertainment, operating a vineyard and running a company that develops software targeted at child education. Seven tutors, including women entrepreneurs, investors and supervisors on employment, evaluated their plans and offered suggestions. For example, the tutors suggested young women entrepreneurs be clear about their career goals, strengthen interaction with customers and explore the focuses of their businesses.
Around 140 participants, including women entrepreneurs, senior-executives, experts and scholars, representatives from social enterprises and female college students, attended the seminar.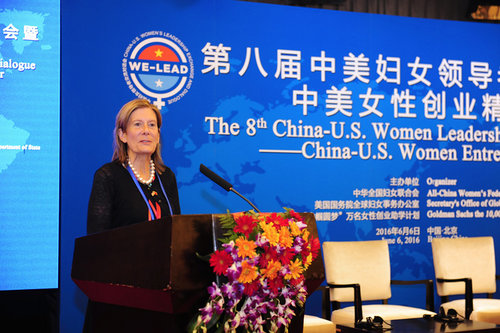 Stephanie Foster speaks at the seminar. [Women of China/Fan Wenjun]
Mu Hong, Director-General of ACWF's International Liaison Department, presides over the seminar. [Women of China/Fan Wenjun]
Tutors offer advice. [Women of China/Fan Wenjun]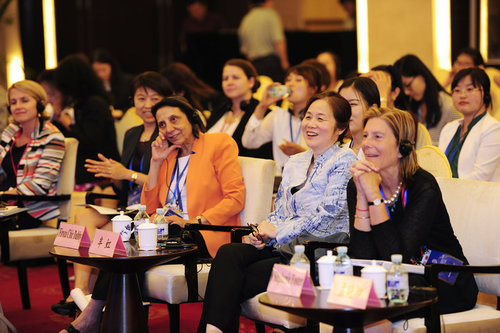 Listening to young women entrepreneurs' presentations [Women of China/Fan Wenjun]
Q&A session [Women of China/Fan Wenjun]