Meng Xiaosi, vice-president and member of the Secretariat of the All-China Women's Federation addresses the opening ceremony of the sharing meeting. [Women of China/Fan Wenjun]
The All-China Women's Federation (ACWF) with the support from the UN Women held a meeting in Beijing on Thursday, to share their experiences of enhancing Chinese women's political participation after a five-year program concluded.
The program Enhancing Chinese Women's Political Participation, carried out from 2011-2015 by ACWF, aimed to further improve relevant laws and policies to create an institutional environment, eliminate discrimination against women, create mechanisms beneficial to gender equality and enhance women's influence in government. Through the scheme, it is hoped to safeguard women's political rights through research, training and publicity.
Julie Broussard, country program manager of UN Women in China, delivered a speech at the opening ceremony of the meeting. She said the commitment and enthusiasm of ACWF at all levels during the implementation of the program were impressive.
"While implementing the wide range of program activities, including research, training and consultations, ACWF staff exhibited hard work and planning, which was also reflected in the number of people that have been reached through this program," she said. "The program reached directly, for example, about 1,700 policy-makers, 900 administrative and Party school students and over 8,000 men and women at the village level. The numbers of indirect beneficiaries are even bigger."
Julie also expressed her hopes for the sharing. "I hope our sharing here will increase our understanding and possibly equip us with different ways to tackle these challenges and close the gaps. I am confident that the stories to be shared here will offer us that insight. So much has been done but so much still needs our full commitment and hard work. It is with great hope and inspiration that we are looking forward to this sharing opportunity, as one step in our collective work for enhancing women's political participation and achieving gender equality."
In her speech, Caroline Horekens, M&R specialist for UN Women's FGE in Asia Pacific, talked about different elements that pose challenges to women's political participation and representation, as well as different approaches, including laws and policies, which could help us in accelerating progress.
"Between 1995 and 2015, nearly 90 percent of countries around the world saw improvements in the numbers of women elected to their national parliaments," said Horekens, listing detailed numbers which showed the progress of women's political participation.
"Countries all over the globe, including in Asia, have witnessed unprecedented progress over the last few decades," but she admitted that advances in gender equality and women's empowerment have been uneven. She appealed to the public to take action to address the challenges of voice, choice and accountability, which are obstacles to women's political empowerment.
Horekens listed three basic conditions that promote women's presence in political decision making: whether the obstacles women face in participation in the electoral process and their ability to exercise a real choice in elections are addressed; whether spaces are created for women to articulate policy preferences or voice; and, whether public institutions respond and are held accountable to women.
Horekens confirmed the results that have been achieved thanks to this program over the past five years, but stated there were still several obstacles remaining. She called on the staff of the program to take stock of these lessons and use the information and knowledge generated to move closer towards increasing the voice of women in China.
Sponsored by the UN's Women's Fund for Gender Equality, a report on the experience of Chinese women's political participation in the three pilot provinces over the past five years was released.
The three pilot provinces are central China's Hunan Province, northeast China's Heilongjiang Province and north China's Shanxi Province.
The report sums up the valuable knowledge gained during the implementation of the program.
The report shows that China has benefited from some effective measures and methods in the past five years. Women have displayed their strength with the improvement of their economic and political empowerment and the influence of social support networks including the female village official associations. They have also developed under the influence of social environments and mechanisms and through participation in training sessions, the report says.
More than 100 experts, representatives of the program and officials from local women's federations and organizations attended the two-day sharing meeting.
Julie Broussard, country program manager of UN Women China, addresses the opening ceremony of the sharing meeting. [Women of China/Fan Wenjun]
Caroline Horekens, M&R specialist for UN Women's FGE in Asia Pacific speaks at the meeting. [Women of China/Fan Wenjun]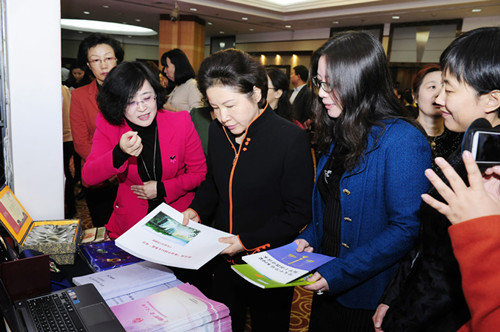 Meng Xiaosi looks at the publications on the experience of Chinese women's political participation in one of the three pilot provinces. [Women of China/Fan Wenjun]
Meng Xiaosi greets a representative of the Enhancing Chinese Women's Political Participation program. [Women of China/Fan Wenjun]
Meng Xiaosi (back center) and representatives of the Enhancing Chinese Women's Political Participation program pose for a group photo. [Women of China/Fan Wenjun]