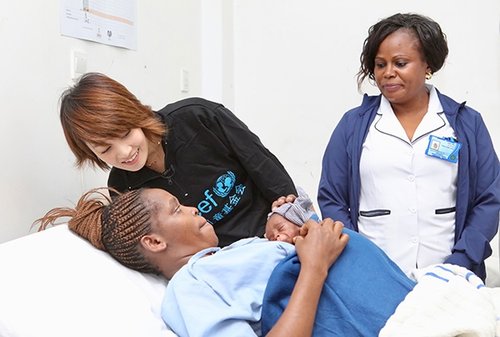 UNICEF ambassador, Ma Yili, visits a mother and her newborn baby at the maternity ward of UNICEF-supported Mama Lucy Kibaki Hospital in Nairobi, Kenya in August 2018. [China Daily]
UNICEF ambassador Ma Yili has called for more support to end preventable maternal and newborn deaths through reinforced South-South cooperation following her inaugural trip with UNICEF to Africa, as documented in a short film released Sept 7 on UNICEF China's website and social media platforms.
The five-day trip took the well-known Chinese actress to Kenya's capital Nairobi, as well as Kisumu and Kakamega counties. There, she visited hospitals and health centers; met with government officials, health workers and volunteers; and spent time with women and children living in the country's rural areas and informal urban settlements.
In the video, Ma expressed the hope that every child in the world will survive and thrive, and called for joint efforts to make this a reality.
Globally, approximately 7,000 newborns die every day, mostly from preventable causes. Among them, 38 percent are in sub-Saharan Africa, where pregnant women are much less likely to receive assistance during delivery due to poverty, conflict and weak institutions.
"In Kenya, I've seen the incredible work that UNICEF and its partners are undertaking, and the progress made in saving mothers and children's lives, but there is still so much more support needed. Through the visit, I learned that the public health system here is still underfunded, understaffed and not well-equipped," Ma Yili said.
In Kenya, UNICEF, alongside the Ministry of Health and its partners, has been improving maternal and child health with access to well-trained health workers and through simple, practical solutions like breastfeeding within the first hour, kangaroo mother care (continuous skin-to-skin contact) and good nutrition. It has also provided hospitals and community health centers with life-saving equipment, including incubators, infant radiant warmers and the installation of oxygenator.
Meanwhile, UNICEF has worked to strengthen the capacity of community health workers, an important network across Kenya striving to provide health education and services to families who may not otherwise have access to care. Through training, these community health workers are vital in creating demand among mothers and families for health services, as well as linking them to the health system.
The release of the video of Ma Yili's visit coincided with the seventh Forum on China-Africa Cooperation (FOCAC) held in Beijing, where eight initiatives for cooperation with African countries were announced, including one on healthcare.
Ahead of FOCAC, UNICEF, the National Health Commission of China and the African Union jointly held a session on China-Africa cooperation in maternal and newborn health under the High-Level Meeting on China-Africa Health Cooperation in Beijing. Participants at the meeting made a collective call to increase investments and place maternal, newborn and child health along the continuum of care as a key priority in China-Africa cooperation. At FOCAC, Chinese President Xi Jinping announced $60 billion of financing to Africa over the next three years, with maternal and child health as one of his priorities.
In a recent meeting with UNICEF Executive Director Henrietta Fore, Kenya's first lady Margaret Kenyatta welcomed UNICEF's collaboration with her country and committed herself to supporting UNICEF's global healthcare interventions for mothers and children.
"Over the past 20 years, millions of children's lives have been saved in China by expanding access to quality primary healthcare across the country, while also dramatically reducing maternal mortality," said Rana Flowers, UNICEF representative to China. "By expanding South-South cooperation, other developing countries can learn from China's success stories, scale up what works, and ultimately achieve more impact, and more results, around the world. UNICEF can be a critical partner for China in this journey."
Ma Yili's visit is also part of UNICEF's campaign Every Child Alive, launched early this year to end the tragedy of preventable newborn and child deaths.
"No matter where they are from – China, Africa or other parts of the world – every child and every woman should have access to quality healthcare," Ma said. "As a mother and UNICEF ambassador, I hope we can all work together to ensure that babies and mothers get the life-saving support they need to survive."
UNICEF ambassador Ma Yili talks with a family benefiting from the UNICEF-supported maternal and child health programme in Kakamega County, Kenya in August 2018. [China Daily]
UNICEF Kenya's Health Specialist Khadija Abdalla (second from right) shows UNICEF ambassador Ma Yili a maternal and child health booklet during a visit to the informal settlement in Eastleigh, a suburb of Nairobi, Kenya in August 2018. [China Daily]
A community member invites UNICEF ambassador Ma Yili to join them during a meeting at Nyahera Village of Kenya's Kisumu County in August 2018. [China Daily]
(Source: China Daily)