Attendees at the event [cnwomen.com.cn]
A week-long Suzhou Embroidery training session kicked off China-Tunisia Cultural Exchange Campaign in Tunis on July 2, aiming to promote cultural integration of the two nations.
The campaign was organized by China Women's Development Foundation (CWDF) and the Tunisian Women's Union (TWU); co-sponsored by the Embassy of the Tunisian Republic in China and Seetour Business School; and, supported by Chinese artistic silk scarf brand Jaren Art.
The activity marked the first time that CWDF has carried out a cultural exchange event in Africa under the framework of the China-Africa women's development foundation.
The campaign is a response to a series of initiatives proposed by Chinese President Xi Jinping at the 2015 Global Summit of Women and the Johannesburg Summit of the Forum on China-Africa Cooperation.
The program is focused on the theme of "She-power helps the development of the Belt and Road initiative (BRI) ".
Organizers aim to build an international women's cultural exchange and cooperation platform and establish an interactive mechanism so as to promote the China-Africa women's cooperation.
A series of activities were organized during the event this time including a cultural exhibition, a one-week Suzhou embroidery training session as well as meetings exchanging ideas.
Participants from the two countries discussed several key issues at the event: the importance of female public welfare organizations in the construction of the BRI; the BRI and women's entrepreneurship and innovation; and women's leadership and corporate social responsibility.
They also presented a number of unique hand-embroidered works and cultural products made by both Chinese and Tunisian women.
Zabi Radi, president of TWU, said the Suzhou embroidery training session sets a model for women's cultural cooperation between the two nations since it would help grass-roots women in Tunisia improve their skills.
She also hoped that China and Tunisia would strengthen their cooperation in women's entrepreneurship and innovation, practical technical training and cultural communication. Meanwhile, the Tunisian representatives promised to actively participate in and promote the development of the BRI.
Wang Wenbin, Chinese ambassador to Tunisia, said that the activity is significant because it faithfully implements the China-proposed BRI initiative and provides new windows for deepening China-Africa women's communication and cooperation.
The embroidery training meets the needs of Tunisian women and benefits local women, he said. He hoped that two countries could increase friendly exchanges and help China-Tunisia relations to make greater progress.
"Through the example of embroidery training, we hope that the event will be an opportunity to make full use of female public welfare platform to gather the strength of all sectors of society of both sides to develop more projects on women's entrepreneurship and education in future. It will help to achieve the win-win development of China-Africa women and further develop the BRI," said a spokesperson of CWDF.
The program was strongly supported by Wang Yufei, sponsor of Jaren Art.
Wang hoped the public welfare activity could truly help Tunisian women improve their embroidery skills and promote women's entrepreneurship and innovation.
She also wished it can spread Oriental culture and show Chinese silk, Suzhou embroidery and Chinese art to the world.
Some 20 Tunisian women were recommended by the TWU to participate in the course. They said it was a rare chance for them to learn masterful embroidery skills from China.
They said that Chinese embroidery experts taught them patiently and prepared teaching materials with detailed contents and easy-to-understand graphics.
"We will work hard to improve our skills and share what we learnt to more women in Tunisia," said a participant.
Women's federations at all levels across Tunisia reflected that many grass-roots women wish China would offer more training sessions so as to meet their needs to study skills.
At the event, officials of TWU presented Special Contribution Awards to CWDF and Wang. Around 300 attendees from China and Tunisia took part in the event.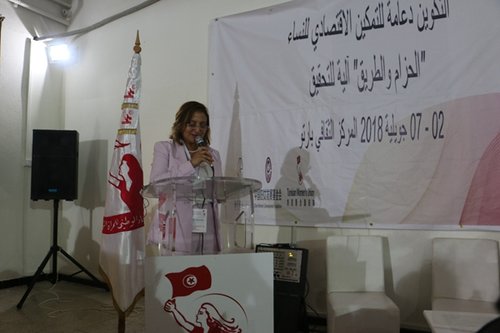 Zabi Radi, president of the Tunisian Women's Union (TWU), gives a speech at the event. [cnwomen.com.cn]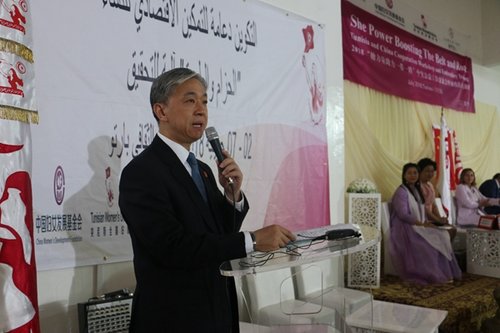 Wang Wenbin, Chinese ambassador to Tunisia, gives a speech at the event. [cnwomen.com.cn]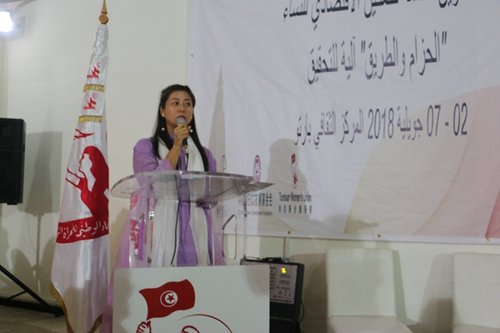 Wang Yufei, sponsor from the Chinese silk scarf brand Jaren Art, gives a speech at the event. [cnwomen.com.cn]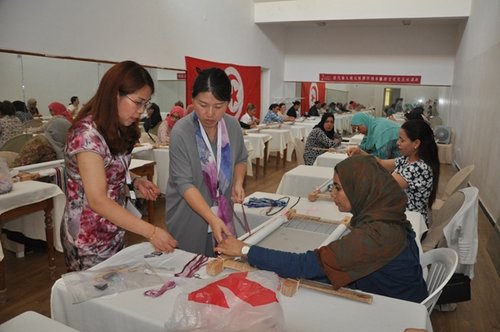 Tunisian women study embroidery skills on a training session. [cnwomen.com.cn]
(Source: cnwomen.com.cn/Translated and edited by Women of China)