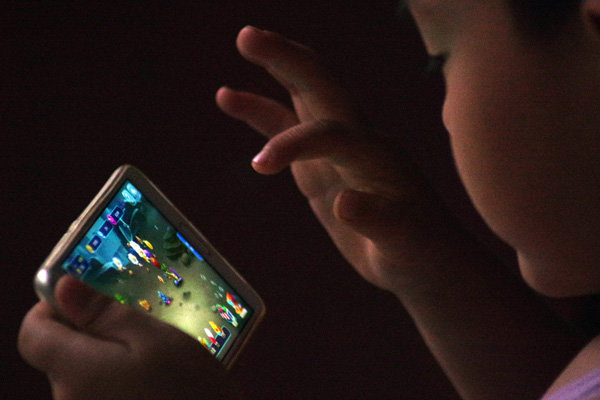 A child indulges in a popular game online. To protect kids from potential harm, some game companies try to limit their playing time to an hour per day. [China Daily]
More needs to be done to protect children from cyberbullying and abuse
Despite children's massive online presence, too little is being done to protect them from the perils of the digital world and to increase their access to safe online content, the United Nations Children's Fund says in its annual flagship report, which was released earlier this month.
Pointing out that one in three internet users worldwide is a child, the agency in its State of the World's Children 2017: Children in a Digital World report, highlights the digital divide and explores the current debates surrounding the impact of the internet and social media on children's safety and well-being.
"For better or worse, digital technology is now an irreversible fact of life," says UNICEF Executive Director Anthony Lake. "In a digital world, our dual challenge is how to mitigate the harm while maximizing the benefits of the internet for every child."
The report explores the benefits that digital technology can offer the most disadvantaged children, from increasing their access to information, building skills for the digital workplace, to providing a platform for them to connect and communicate their views.
"The internet was designed for adults, but it is increasingly being used by children and young people, and digital technology increasingly affects their lives and their future," Lake notes.
The report also examines how the internet increases children's vulnerability to risks and potential harm, including the misuse of their private information, access to harmful content and cyberbullying.
The report notes that the ubiquitous presence of mobile devices has made unsupervised access to the internet more common, and therefore potentially more dangerous.
Moreover, digital networks like the "dark web" and cryptocurrencies are enabling the worst forms of exploitation and abuse, such as trafficking and "made-to-order" online child sexual abuse.
According to the report, young people are the most connected age group. Worldwide, they have a 71 percent presence online compared with 48 percent of the total population.
However, young people in Africa are the least connected, with around three out of five having no access to the Internet, compared to just one in 25 in Europe.
It also reveals that more than nine in 10 child sexual abuse URLs, or Internet addresses, are hosted in Canada, France, the Netherlands, the Russian Federation and the United States.
The report says that only collective action by governments, the private sector, families and children themselves can help level the digital playing field and make the internet safer and more accessible to children.
(Source: China Daily)