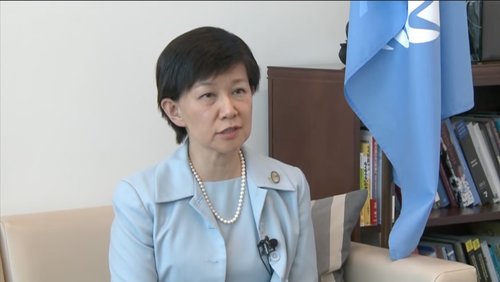 Izumi Nakamitsu [CGTN]
Izumi Nakamitsu, United Nations (UN) Under-Secretary-General and High Representative for Disarmament Affairs, says the UN welcomes China's strong commitment of multilateral diplomacy, which is the "community of shared future for mankind".
The concept, proposed by Chinese President Xi Jinping, has been written into United Nations security resolutions.
"The reference of 'shared common future', I think it is a commitment that China is making globally to multinationalism in general," she said.
"China will continue to play a very critical role in terms of how they work with other nations in the platform of multilateralism, one very important platform for that is the United Nations."
Since China sends more troops to UN peacekeeping missions than any other permanent member of UN Security Council, Nakamitsu also speak highly of China's contribution to peacekeeping.
"I know a little bit about peacekeeping, I worked in peacekeeping community before I moved to disarmament. But in peacekeeping, China has become a very important troop contributor," she said. "Also China plays a critical role in the very important negotiation needing to the adoption of 2030 agenda, the Sustainable and Developing Goals (SDG)."
Nakamitsu emphasized that the UN is happy about China's commitment.
"China is one of the strong supporters of very important multilateral platform and commitment. I think it is common future between what the Chinese President's saying and what the United Nations jointly trying to pursue," she added.
(Source: CGTN)