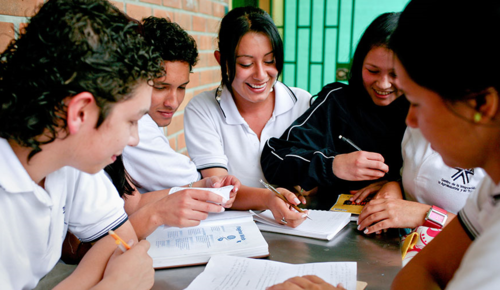 Students in a technical education program supported by the World Bank in Antioquia, Colombia. [World Bank]
The global youth population—1.8 billion strong—represents boundless possibilities and talent to build a peaceful and sustainable world. The theme for International Youth Day, 12 August, 2017, focuses specifically on "Youth Building Peace".
Young women and girls have a diverse range of roles and experiences during and after conflict. They are combatants, collaborators, mediators and peacebuilders, as well as victims and casualties of war, facing additional layers of violence and discrimination because of their age and gender. Their leadership and perspectives are indispensable for stopping conflicts and healing communities.
The 2015 Global Study on the Implementation of the UN Security Council resolution 1325 strongly recommended increased involvement of young people in women, peace and security issues at the national, regional and global levels. Achieving the Sustainable Development Goals, including SDG 16, which promotes peace, justice and strong institutions, also requires full engagement of young people, and young women, in particular.
The promise of the 2030 Agenda for Sustainable Development to "leave no one behind" demands that we include young women at the centre of our interventions to build peaceful, inclusive and sustainable societies.
(Source: Unwomen.org)
Please understand that womenofchina.cn,a non-profit, information-communication website, cannot reach every writer before using articles and images. For copyright issues, please contact us by emailing: website@womenofchina.cn. The articles published and opinions expressed on this website represent the opinions of writers and are not necessarily shared by womenofchina.cn.