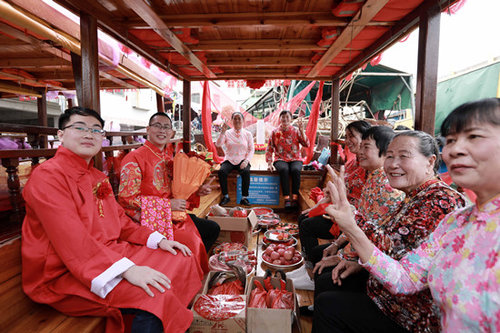 Special wedding ceremony is celebrated in the traditional local style. [China Daily]
Four small wooden boats decorated with red and purple silk belts, floral ornaments and Chinese characters known as shuang xi (which signify "double good luck" and areoften used at weddings) glided along the river as firecrackers and folk songs echoed around them.
This appeared on Nov 28 in Shatian town in Guangzhou's Nansha district, where a special wedding ceremony was celebrated in the traditional local style.
People in the neighborhood gathered on the banks as the groom, He Wenhao, a native born in the post 1990s, cruised past.
At 12:30, a moment considered lucky in local custom, groomsmen carried four geese, four coconuts, and six bottles of red rice wine, symbolizing happiness and prosperity in Chinese culture, to the leading boat.
He went on board tocheers and headed for his bride's home. Shortly after his departure, firecrackers and Xianshui song (a folk song) went up in the bridegroom's procession. The wedding attracted the riverside inhabitants using mobile phones to take pictures.
The groom shouted excitedly outside the bride's house, and sent the wedding gifts there one by one. After the test of the bridesmaids, he finally got the "new hug" (which means his bride finally married him).
A local resident surnamed Chen, who has been married for over 30 years, said it was quite common in the past and she had not seen such a traditional wedding for many years. She hoped these traditional customs can be preserved.
The bride, also from the post-90s generation, appreciated the on-water wedding and said it's a "unique" and "unforgettable" experience in her life.
"Furthermore, we spent more than one month on the preparation," the groom said, adding that all the decorations and banners were bought by him and his betrothed.
"We did a job that nobody had done for years and that promotes the traditional culture. It's meaningful," he said with pride.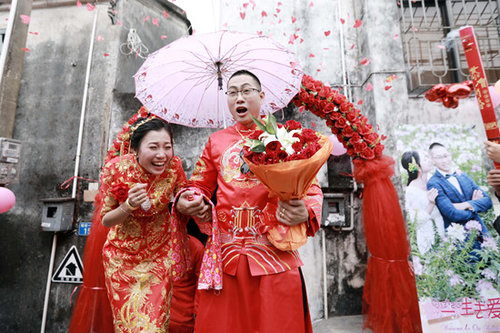 The bride and groom enjoy the traditional wedding. [China Daily]
(Source: China Daily)