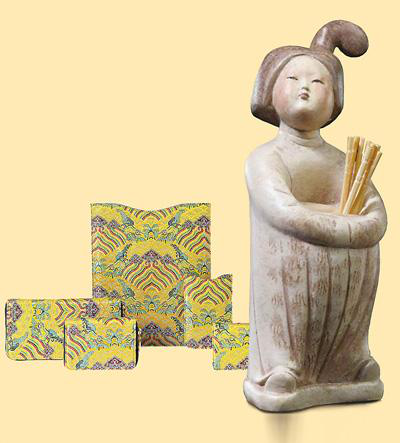 The silk-made products with traditional pattern and a toothpick holder in shape of a color-painted pottery figurine. [People.cn]
Beijing's Palace Museum, also known as the Forbidden City, has recently kept up with the times by developing novel ways to connect with visitors, promote traditional culture and attract the younger generations, according to a media profile.
Nowadays, the museum has a vast number of fans both at home and abroad, and tens of millions of tourists visit the world-renown heritage site every year.
More and more tourists have been attracted out of curiosity for history, especially at a time when several royal operas were prevailing online that highlighted the stories of concubines who lived in the palace during the Qing Dynasty (1644-1911), such as Empresses in the Palace and Story of Yanxi Palace.
Yanxi Palace, previously a rarely-visited side building in the museum, has since become a major draw.
In recent years, visitors have been able to travel through the Palace Museum on their mobile phones via various apps, without even leaving their homes.
The museum's first ever app is called Yin Zhen's Beauty Portrait. It is based on the well-known painting 12 Beauties that features in the collection, and links research on furniture, ceramics, court life, calligraphy and painting, and analyzes the composition and techniques of the painting itself.
One Day of the Emperor is another app specially created for children. It helps them understand the daily diets and lifestyle of the emperor through hand-drawn cartoons.
The app Palace Museum Daily introduces one item from the collection of the Palace Museum each day in the form of a calendar.
Meanwhile, via an online shop, visitors can buy items such as watches, notepads, hats and many other themed souvenirs.
Visitors can also follow Shan Qixiang, the head of the Palace Museum and so-called "Gatekeeper of the Forbidden City", on his Weibo social media account to learn more about the museum.
A wide varieties of items from the Forbidden City were loaned to Qingdao Art Museum during the 18th Shanghai Cooperation Organization summit in the city in June this year, presenting a visual feast for attendees.
In addition, the museum has opened its first off-site satellite museum on Gulangyu Island in the city of Xiamen, southeast China's Fujian province, where an exhibition from the collection offers visitors in other provinces more opportunities to learn.
(Source: People.cn/Translated and edited by Women of China)