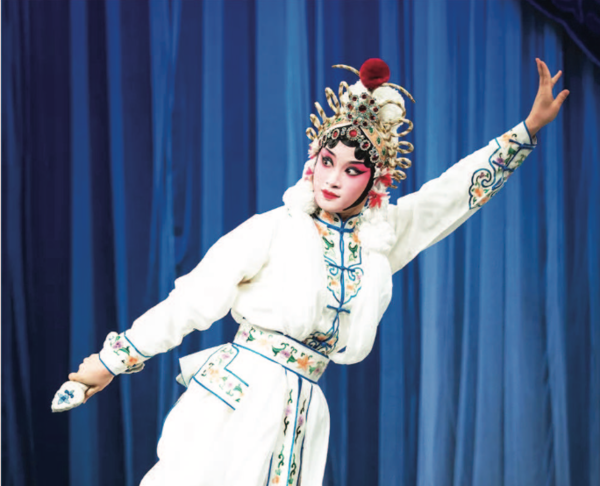 Performers take part in a production of the Kunqu Opera 'Legend of the White Snake'. [whb.com]

Organizers in Shanghai have worked hard to deepen the reform of local culture and art troupes over the past two years, in efforts to revitalize opera performances around China, with the support of national policies.
Lately, during national tours, these troupes have drawn new audiences and greatly expanded their influence, according to commentators.
Gu Haohao, director of Shanghai Opera Arts Center and leader of Shanghai Kunqu Opera Troupe, said: "We have to proactively cultivate the national market, besides serving our local markets and fans better. Only in this way, can our traditional operas develop healthily, and opera singers can enjoy a bright future."
Under the guidance of these efforts, Shanghai troupes are entering a fruitful touring year.
Shanghai Pingtan Troupe made its debut in northeast China on September 2; and, Shanghai Yue Opera Troupe will perform Dream of Red Mansions in November in the city of Harbin in Heilongjiang, China's northernmost province.
Compared with previous seasons, Shanghai troupes will perform in wider areas in future including in Sichuan, Hubei and Yunnan provinces.

Shanghai troupes have also given more performances this year. Up until August, Shanghai Yue Troupe played Dreams of Red Mansions 30 times, and Shanghai Kunqu Opera Troupe is scheduled to perform 290 times, with 35 percent of the performances at home.
Meanwhile, the troupes have also held promotional activities and guided tours to cultivate and attract new audiences.
Some commentators have suggested that this innovative system should be applied to other local operas elsewhere.
From the perspective of operatic development, many advise troupes to establish a systemic and branding mechanism with abundant support activities.
Meanwhile, local theaters and producers have cooperated by arranging guided tours, lectures and visits to universities.
Traditional Shanghai operas are regaining their glory around China, according to many.
Performers take part in the Kunqu Opera Four Dreams [whb.com]
(Source: whb.com/Translated and edited by Women of China)