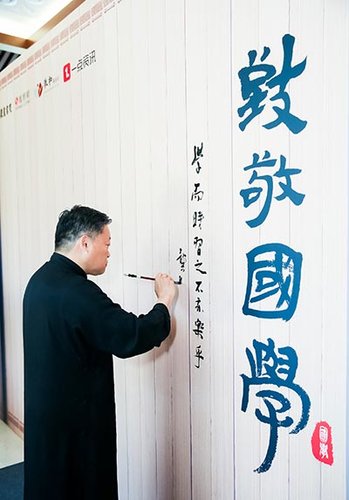 Gong Pengcheng, head of Peking University's Cultural Resources Research Center, displays the beauty of Chinese calligraphy. [China Daily]
The mission to develop guoxue, the study of traditional Chinese thought and culture, is an arduous journey requiring the effort of today's youth and future generations, experts asserted at a recent education forum in Beijing.
The forum, co-hosted by Yuelu Academy, ifeng.com, Dunhe Foundation and Particle Information, released a report, which indicates that content pertaining to guoxue-loosely defined as the study of ancient Chinese civilization, specifically, subjects such as history, philosophy, literature and art-is gaining popularity among young Chinese.
By analyzing results from the big data system of the Particle Information app and a questionnaire from ifeng.com with 100,000 respondents, the report gives a rounded account of the age, gender, region and interests of people holding an interest in guoxue.
The report delves into the group of "guoxue youth", users aged under 36, who have subscribed to a guoxue channel on the Particle Information app. Within this group, users born in the 1980s account for nearly half with a significant 48.46 percent, followed by those born in the 1990s, with 32.47 percent.
Though most are interested in traditional content, such as calligraphy, I Ching (the Book of Changes) and ancient poetry, these young followers of traditional Chinese culture also subscribe to channels with modern characteristics, including films, technology and design.
Gan Lu, general manager of the marketing center at Particle Information, says that the popularity of guoxue among younger users is marked with a sense of modernity, as their passion for it is often presented in their preferred forms of entertainment. For instance, they choose TV shows, travel destinations and products that have rich cultural connotations.
"With the increasing popularity of guoxue comes the prevalence of culture-related variety shows and the rise of the cultural and creative industries," Gan observes. "It shows the subtle influence that traditional culture exerts on the values of contemporary youth."
Gong Pengcheng, director of the Cultural Resources Research Center at Peking University, says: "We have known that fashion trends and entertainment consumption of today's young people bear the stamp of traditional culture. However, in our education system, guoxue has yet to be implemented."
According to Gong, modern education should draw from the benign conventions of traditional education and develop a general syllabus with emphases on classical literature, interpersonal skills and physical fitness.
"In order to rejuvenate our educational traditions, we should constantly reflect on our modes of teaching and incorporate into modern education the spirit and practices of traditional learning," Gong says.
Yang Dongping, director of the 21st Century Education Research Institute, concurs with Gong in saying that traditions of ancient education should be inherited. "Schools are the center of China's education," he notes. "We should inherit the tradition of small-class teaching in order to provide humanitarian and individualized education."
Zhu Xiangfei, a visiting professor at Beijing Normal University, founded the Kongyang Confucian Studio in 2009, which is aimed at popularizing guoxue education in both schools and wider society.
He says that classics such as The Analects of Confucius should be taught throughout every stage of education. "It should first be taught in middle schools, then studied at a deeper level in universities and, finally, for the rest of one's life. It is essentially the task of the entire society to study traditional culture."
Xu Yong, professor of education at Beijing Normal University, concludes that time and patience are needed in popularizing guoxue, but modern technology does help accelerate the process.
Giving the example of his students who use mobile applications in disseminating guoxue, Xu says, "It is the responsibility of the younger generation to seek innovation of traditional culture using modern communication methods."
This assertion is exemplified by the school projects of several students from Tsinghua University Primary School, who used data analysis methods to analyze classical poet Su Shi's work and influence on tourism.
Other scholars including Yang and Zhu Xiaojian, executive vice-dean of the Institute for Advanced Study of the Humanities and Religion at Beijing Normal University, also recognize the power of technological development in disseminating guoxue, and it will depend on future generations to implement the long-term mission of guoxue education.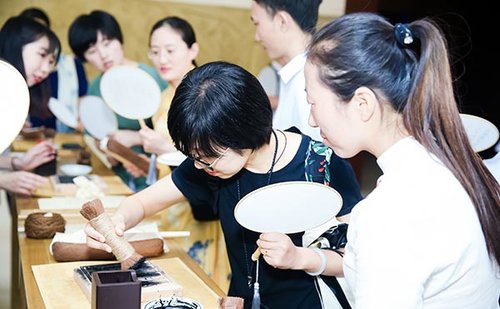 A visitor inks Chinese characters onto a fan. [China Daily]
A group of young people act out a play at a recent forum in Beijing. [China Daily]
(Source: China Daily)