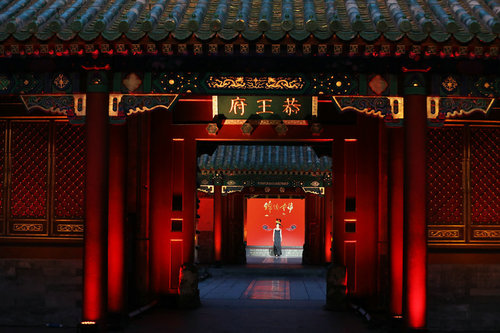 A model presents a design by D.Rita at the Prince Kung's Mansion in Beijing, June 8, 2018. The runway is a part of "Splendid China: China Intangible Cultural Heritage Fashion Show", one activity of the 2018 Cultural and Natural Heritage Day. [China Daily / Zhu Xingxin]
Embroidery is a smart way to let a common outfit tell a story or signal status.
In ancient China, royals, especially emperors, used special embroidery to show their status. Thus, taboos developed. For instance, a dragon with five claws was an exclusive pattern only for the emperor. If anyone dare use such embroidery on his or her clothes, it would result in that person's death.
Different animals were embroidered on the robes to mark two main groups of officers: civil and military. Animals on the former's vestments were often birds, while the latter had beasts.
The requirement of the royals let Beijing embroidery blossom in the Ming and Qing dynasties (1368-1911) since it was born in the Tang Dynasty (618-907).
And it got another name, royal embroidery, in ancient China's last dynasty.
At the time, Beijing embroidery was followed by many common workshops, becoming one of the "Eight Wonders of Yanjing", along with other seven first-rate craftsmanship in Beijing.
Compared to other traditional embroideries, such as the works from Suzhou and Hunan, Beijing embroidery is known for its rich hued colors, descent patterns and luxury decorations. Not only gold and silver yarn, but genuine jewelry was widely used in the latter group.
In 2014, the crafts were listed as a national intangible cultural heritage, and carried forward both inheritors and modern designers.
One is D.Rita, a brand specialized in making couture designs with Chinese embroideries.
The founder, Yu Dan, brought her works, a series of fine clothes dazzling with Beijing embroidery to a show at the Prince Kung's Mansion on June 8.
The models, from toddlers to young women to aged couples, wore clothes that combined modern designs and Beijing embroidery.
Yu wants the traditional crafts to return to people's daily life in forms of modern design, rather than just being a silent heritage living in records.
The designer added light hues in the series, including pale blue and light pink, to make the clothes more suitable for daily wear.
"Based on the traditional crafts, we also create some new patterns, such as flowers. In the past, lily flower was not included, but now we use it on many of our clothes," Yu told China Daily Website at the show.
Considering old-fashioned taboos, Yu said her brand had clothes with patterns that were only for emperors. Yet some of her clients declined such designs.
"These clients don't think they have enough confidence to wear such clothes with powerful animal pattern," Yu said.
Out of the love for traditional Chinese culture, Yu established the brand in 2013 and opened her first store in Beijing one year later.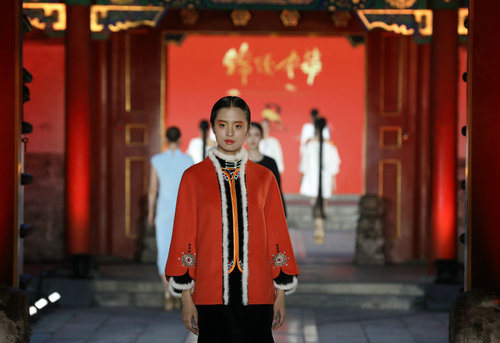 A model presents a design by D.Rita at the Prince Kung's Mansion in Beijing, June 8, 2018. The runway is a part of "Splendid China: China Intangible Cultural Heritage Fashion Show", one activity of the 2018 Cultural and Natural Heritage Day. [China Daily / Zhu Xingxin]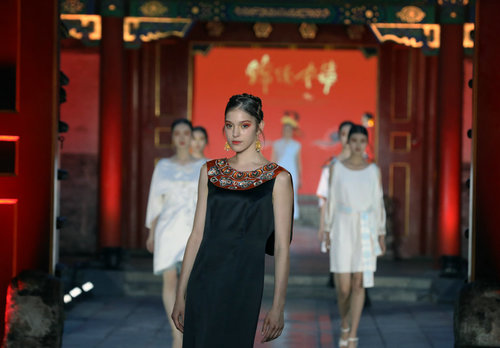 A model presents a design by D.Rita at the Prince Kung's Mansion in Beijing, June 8, 2018. The runway is a part of "Splendid China: China Intangible Cultural Heritage Fashion Show", one activity of the 2018 Cultural and Natural Heritage Day. [China Daily / Zhu Xingxin]
A model presents a design by D.Rita at the Prince Kung's Mansion in Beijing, June 8, 2018. The runway is a part of "Splendid China: China Intangible Cultural Heritage Fashion Show", one activity of the 2018 Cultural and Natural Heritage Day. [China Daily / Zhu Xingxin]
Models present designs by D.Rita at the Prince Kung's Mansion in Beijing, June 8, 2018. The runway is a part of "Splendid China: China Intangible Cultural Heritage Fashion Show", one activity of the 2018 Cultural and Natural Heritage Day. [China Daily / Zhu Xingxin]
(Source: China Daily)