Historical legend Nirvana in Fire 2 marks big improvement of quality of Chinese online series dramas in 2017. [China Daily]
Last year saw better quality online productions for an increasingly sophisticated audience.
For China's TV audiences, the market for online drama series used to be infested with low-quality productions. However, 2017 witnessed an inflection point for this genre tailored specifically for the internet, which was hardly imaginable a few years ago.
Day and Night, a crime drama produced by streaming media platform Youku, scored 9.0 points out of 10 on Douban, a popular Chinese film rating platform. My Huckleberry Friends produced by the iQiyi platform was rated 8.5 out of 10, and the thrillers Burning Ice and Tientsin Mystic from iQiyi both achieved 8.2 points.
Some of the shows have been sold to the United States and have achieved global acclaim.
On April 10, Tientsin Mystic, which has a storyline set in the 1930s, gained a silver medal for special visual effects and a bronze medal for direction at the New York Festivals World's Best TV & Films competition, which selects winners among productions from about 50 countries and regions. Burning Ice was awarded a bronze medal for crime drama at the same event.
More key opinion leaders from both the film and internet industries are showing greater ambition as they rise from strength to strength. At least, that's how it appeared at a forum during the recent Beijing TV Program Market & Exhibition, the country's major trade fair for TV industry held twice a year.
"Although online drama series first appeared in 2012, last year was its true beginning as an art genre," says Hou Keming, a professor of the Beijing Film Academy. "It's just like film was born in 1895, but it wasn't until (D.W.) Griffith made epics like The Birth of a Nation and Intolerance about 20 years later, that it turned into an art form."
He cites online series in the United States which offer another broadcast channel other than TV, but no significant difference in content. However, the situation is completely different in China.
"China's online series have gone down a very different path from other countries around the world," he says. "While Chinese TV productions tend to focus on dialogue, their online counterparts place more emphasis on dramatic storylines and action sequences which lead to a faster pace."
Hou makes the comparison that a story told in 30 episodes on TV can usually be finished within 12 episodes by an online counterpart, which makes online drama series closer to filmmaking rather than the more orthodox TV industry.
As cinematic big shots like Han Sanping, a filmmaker famed for his epic productions and a former president of the China Film Group Corporation, chose to join Burning Ice last year as the executive producer, the online drama industry seemed to be reshaping itself.
"Online productions offer much more possibilities and wider spaces than two-hour-long movies for filmmakers to tell stories," Han says. "This will eventually become a bigger market than cinema."
Hou echoes that it was natural to have a fruitful 2017 as more talented young filmmakers are entering the internet industry in recent years and gradually set their own rules.
"Online series are made by the youth for the youth," he says. "Young viewers' needs are often neglected by TV series producers, and that's why they turn to cyberspace."
Hou also attributed the vast improvement in quality last year to the role of social media in reflecting popular opinion, and a new government policy aimed at marginalizing trashy content, which used to dominate the market.
When online drama series first became popular, producers would often exploit its more loose approval criteria than television to add eye-catching gimmicks, such as excessive violence, superstition and erotic content, to win more traffic online. In 2016, online regulators introduced the policy of using the same criteria as television when approving content tailored for cyberspace.
This also served as a reminder to the industry that excessive growth in the name of profit was not a sustainable model. According to data from internet industry analyst Guduo Media, 295 drama series went online in 2017, 15 percent fewer than in 2016, and a 22 percent drop compared to 2015 - the peak year for online shows in terms of volume.
Xia Fei, director of online video content with the Beijing Municipal Bureau of Press, Publication, Radio, Film and Television, says more government support will be given to developing high-quality original online content.
"The need for a better environment pushes us to continue fighting vulgar content and protect intellectual property rights.
"This will allow good productions to grow faster. In turn, good productions will nurture better tastes. If producers always cater to what is popular, things will only get worse," he says.
Data from the bureau shows that China now has 565 million regular viewers of online video content - about 75 percent of the nation's web users.
Despite recent achievements, there is still a bottleneck in terms of the variety of drama series being shown online to satisfy demand from such a huge user base.
Although the productions in 2017 covered 23 genres, according to Guduo Media, about 70 percent of releases were categorized as comedy, romance, thrillers, campus-themed, and historical legend.
"Similar productions still flock together," Hou says.
"Many mainstream topics and social issues are rarely reflected in online series, and many are about so-called 'subculture'."
Hou also points out that Chinese online series today rely heavily on adapting internet novels, and sometimes tend to be "salads of jokes popular in cyberspace".
"What are popular in other forms do not necessarily work well when they are adapted into a drama series," he says.
"If we want to create a 'summit' for the industry, original creativity is a must."
And while some successful series appear to mimic established productions from the West, Hou thinks this situation will not last for long, since Chinese people have a different cultural background and aesthetics.
"When the same model is repeated a few times, young audiences looking for freshness will soon grow tired of it," he says.
Dai Ying, the general manager for developing online drama series with iQiyi, believes local topics in China will be in the spotlight in the future.
"Our surveys show that the generation born after the 1990s have a stronger interest in these subjects," she explains. "That means they have a very strong connection with our own culture."
She believes the industry also needs to include more themes about social responsibility into their productions.
"What young audiences watch online is what they will be," she says.
"It's unacceptable to give them something that rates 2 points on Douban."
And the era where celebrities propose a premise for productions seems to have passed.
For instance, in the hit film Tientsin Mystic, the cast is full of new faces. Bai Yicong, a director and screenwriter for online series, believes streaming media will give novice actors more chances.
However, the market still needs time to find a balance between popularity and quality.
Bai says that productions that rate around 6 points on Douban usually get the most traffic online.
"Young audiences will often view productions about the elite as emotionally detached." Bai says. "But that doesn't mean we should be satisfied by 6 points.
"We need to focus our efforts and try to hone our productions rather than worry too much about gaining huge popularity beforehand," he says.
"It's impossible to cater to everyone's tastes."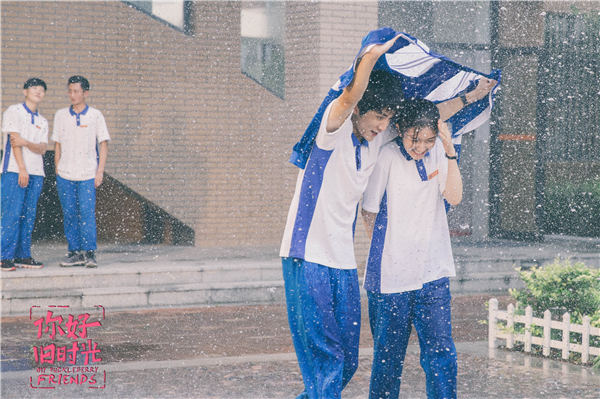 My Huckleberry Friends, a highly acclaimed campus romance. [China Daily]

(Source: China Daily)