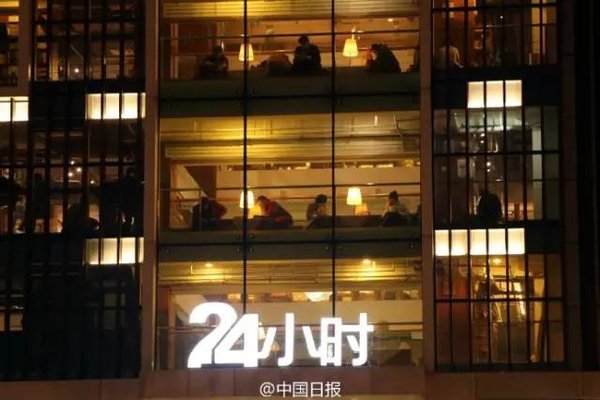 A 24-hour bookstore in Hefei [China Daily at Weibo]
Officials in the city of Hefei, east China's Anhui Province, have actively aroused citizens' interest in books through a universal reading campaign over the past few years.
Authorities have listed the campaign in the government budget for four consecutive years, and expanded cultural initiatives to 268 this year, up from 20 in 2014.
The campaign comprises expert guidance, with both social and departmental support, and extensive participation from residents, said an official.
Nowadays, avid readers can get easy access to multiple reading spaces such as 24-hour bookstores, book-sharing libraries and community shops.
In addition, the women's federation in Hefei has promoted parent-child reading via multiple platforms including both online and off-line initiatives, newspapers and on the radio.
Model households or individual readers have gained acclaim in public through a series of activities such as the Top 10 Reading Stars, Top 10 Best-Sellers Sharing Session, and Outstanding Households for Reading campaigns.
The rising popularity of reading activities has promoted the city to top in the ranking of those places where people read most, according to data released by online retailer Amazon in June last year.
Amazon also said Hefei featured the highest number of book purchases among its population in the first six months of 2017.
(Source: China Women's News/Translated and edited by Women of China)