Students prepare for the gaokao in the study room of a middle school in Hengyang, Hunan Province, on May 28. [For China Daily/Cao Zhengping]
Starting on Friday, about 10 million students will take China's national college entrance examination. Below, several students and a teacher reflect on the stresses and joys of taking the country's toughest and most influential test.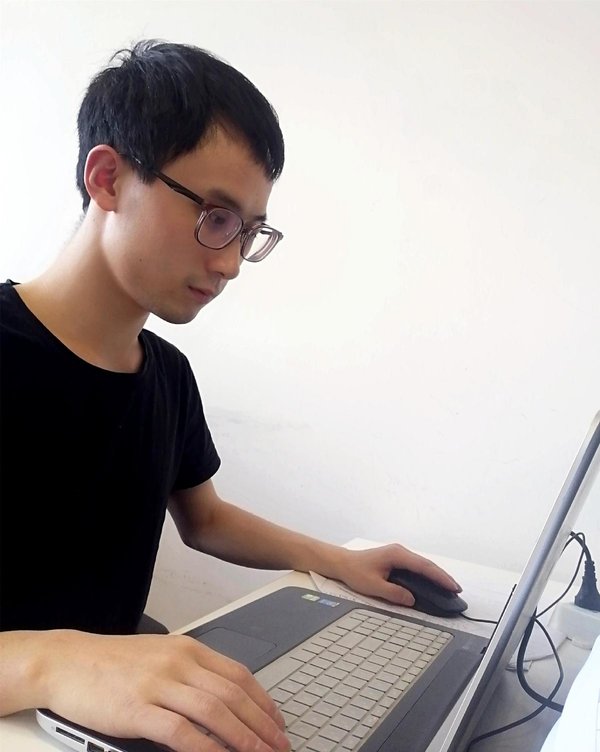 Tian Hailin, a 24-year-old student in Hubei. [For China Daily]
I almost gave up on education
In the West, many college students take a year off before graduation to travel or work and find their future direction.
But when I took my year off, having just finished my first semester in high school, I had never even heard the Western phrase "gap year".
In September 2011, I started high school in a county in the Enshi Tujia and Miao Autonomous Prefecture, Hubei province.
My academic performance was always at the bottom of the grade, which made me feel depressed and desperate.
My dorm, which was home to eight students, was crowded and damp. I rarely went back to my home village because the traffic was always heavy.
Life at the high school was so hard that I decided to drop out. I was very rebellious, so my parents had to agree.
After leaving school in January 2012, I lived as a migrant worker in several cities and provinces along the Yangtze River, including Wuhan in Hubei, Nanjing in Jiangsu, Shanghai, and Chongqing.
Without a high school diploma or skills, I had to do odd jobs. I was a dishwasher, waiter, deliveryman and security guard.
Usually, I only earned about 2,000 yuan ($290) a month, barely enough to live on.
My parents often called to ask if I was doing well. They never mentioned that I should go back to school, but their regular calls were pulling me back, like a kite on a string.
I learned a hard lesson-it is tough to live without a degree. I returned home, and in October 2012, I restarted the first year of high school.
The conditions at the high school hadn't improved, but I had changed.
The odd jobs I did during my gap year had changed my attitude and made it easier for me to concentrate when I got into difficulties.
Before, I felt desperate at getting up at 5:30 am and studying in the classroom, but when I returned, it didn't feel like a big deal.
I took the gaokao in June 2015, and was ranked about 80th in my grade.
Even though it wasn't an amazing result, it was a big leap for me.
Later that year, I managed to gain a place at Wuhan Business University.
I chose logistics as my major because my time as a deliveryman during the gap year suggested that the sector has great potential in China.
At university, I have done part-time jobs at weekends, including sorting express packages in the warehouse of an online retailer.
Since the second semester of my freshman year, I have been able to cover all my living expenses.
I have received certificates in supply chain management and computer skills, and I achieved third place in a national logistics management competition.
Currently, I am interning as a logistics engineer at a company in Shanghai, and I will stay on there after I graduate this month.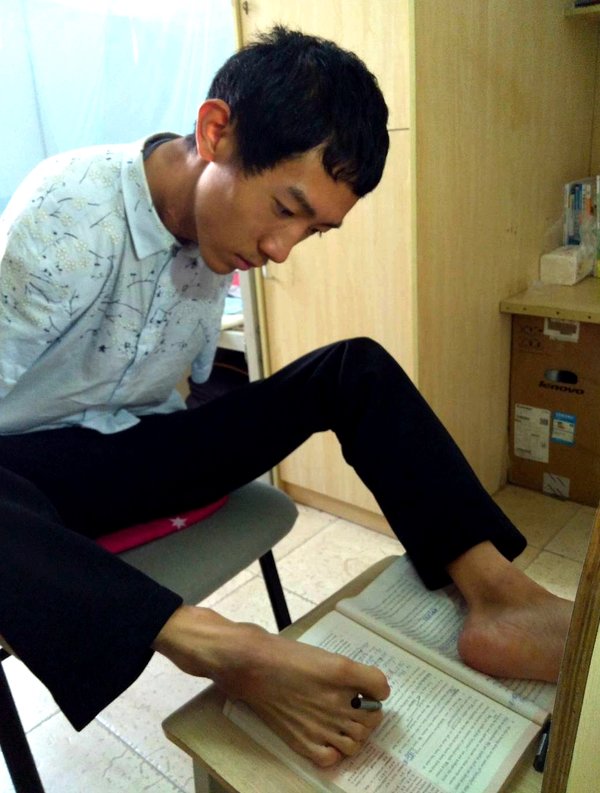 Peng Chao, a 24-year-old undergraduate in Sichuan. [For China Daily]
I decided to take the test twice
I am from a county in Panzhihua, Sichuan Province. When I was 6 years old, I accidentally touched a high-voltage cable and blacked out. When I regained consciousness, I found that my arms had been amputated. It was a huge blow. I was plunged into darkness.
My world was completely overturned. All I could do every day was shout "Mom, I'm hungry", or "Dad, I need to use the bathroom". I often asked myself if there was any point in living and thought I might as well die.
Months passed, and one day it occurred to me that although I had no hands, I still had two precious things-my feet and my brain. I decided to train my feet to replace my hands.
My parents were happy to see me display willpower. My father taught me to use my toes to hold a pen and pick things up, and he even practiced with me.
I don't know how many blisters I got between my toes or how many times I suffered foot cramps.
After about 17 months, I was able to write neatly. I could also eat, wash my face and brush my teeth with my feet.
My father sent me to normal schools instead of schools for disabled kids, because he wanted me to study like a normal kid.
He said education was especially important for kids like me.
In winter, I could not wear socks while writing, so my feet often cracked due to the cold. I could not hold an umbrella, but I still went to school in the rain.
I lived in a dorm at middle school. It took about 15 minutes to wash my face and brush my teeth, and 10 minutes to make my bed. But I got up 50 minutes earlier than the other students so I could arrive at the classroom before classes started, which gave me time to read. I also used the breaks between classes to do homework. That meant I could study for two hours more than my peers every day.
My academic performance was always excellent. However, when I took the gaokao in June 2014, I scored 543 points, just three above the basic line for key universities. The result was not ideal.
I was unwilling to accept that, because it took me longer to write with my feet than normal students using their hands. As a result, I left many answers to questions unfinished in the exam. I decided to improve my writing speed and try again the next year.
Later, Sichuan media reported about me using my feet to write and deciding to take the exam again.
I never imagined that Zhang Haidi, chairwoman of the China Disabled Persons' Federation, would see the story. She did, and in response, she wrote to the Ministry of Education and explained that there were many disabled students like me who faced extra difficulties in the gaokao.
In May 2015, the ministry issued a policy that lengthened the duration of the exam by 30 percent for disabled students like me. I was moved to tears.
How lucky I was! The policy was enacted just a month before my second gaokao.
Finally, I realized my university dream. I got a score of 603 in the 2015 gaokao and was admitted to Sichuan University as a law student.
Now, I am a senior student, preparing to apply for postgraduate study. I want to be a lawyer to help people from vulnerable groups.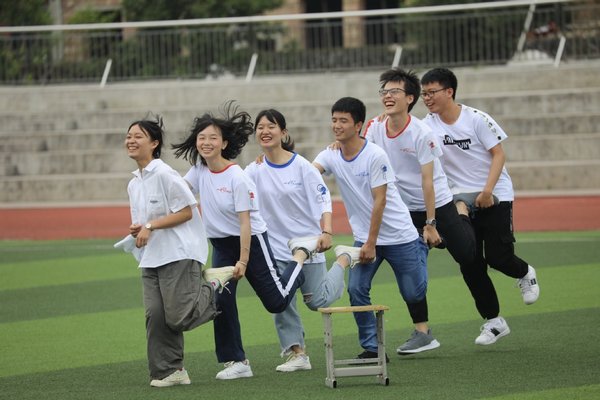 Senior students in Yongzhou, Hunan Province, play games on Saturday to relax before the gaokao. [Xinhua/Wang Zichuang]
It's just one step along life's highway
I will take the gaokao this week in my hometown of Wuhan, Hubei Province.
I want to become an army doctor, so my goal is to gain admission to the Army Medical University in Chongqing to study medicine.
The imminent arrival of the exam means life is more stressful than usual. I arrive at class at 7:20 am and finish school at 9:30 pm.
Some teachers stay longer in class to give us more coaching, so our night study can last until 10 pm. We can only take Sunday afternoon off.
There are 52 students in my class. We play jokes to encourage each other.
I really like walking, so if I am under pressure, I will walk around the campus playground to relieve the stress.
There are many stray cats in our school, and they are very docile. I always put a bag of cat food in my rucksack to feed them.
Two of my classmates recently set up a running club to relieve the pressure.
During the break in our evening self-study time from 8 pm to 8:10 pm, they organize the students to go running together. The day they started the activity, about 50 of the other students joined in.
There is a "wish corner" in my classroom, where everyone can write down whatever they like, such as advice, puzzles, problems and wishes.
To ease the pressure on us, the school has held a number of activities, including a coming-of-age ceremony during which we exchanged letters with our parents, as well as arts and science festivals.
Life's road is very long and the gaokao is just one step along it.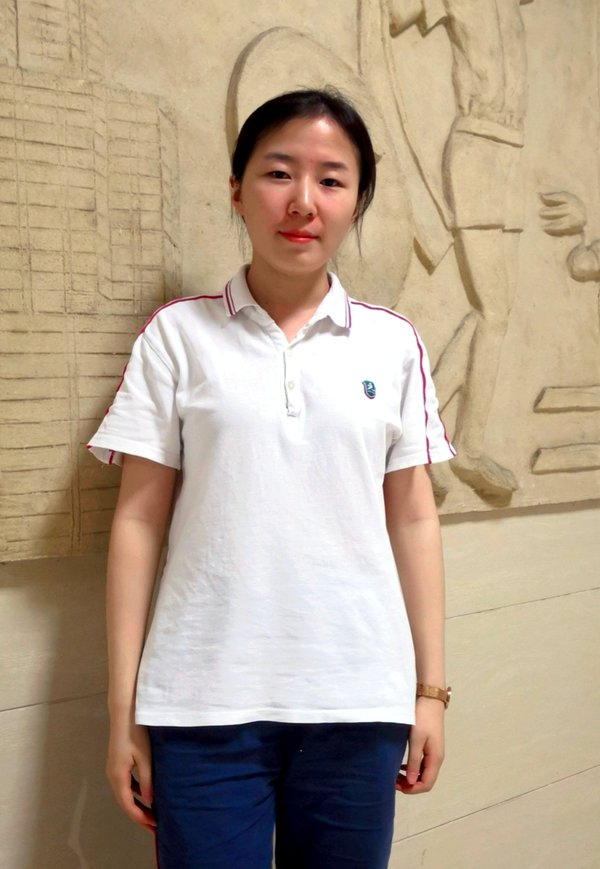 Chen Jiayuan, a 19-year-old high school student in Hubei. [For China Daily]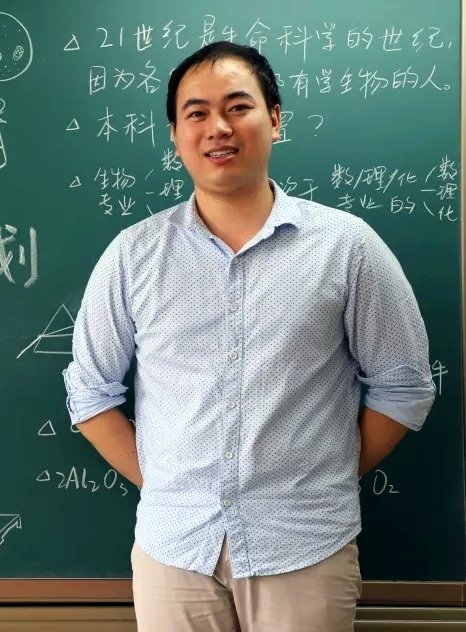 Lu Fajie, a 29-year-old teacher in Beijing. [For China Daily]
I am nervous for my students as they bid for college
I teach math at a high school in Beijing. I started teaching three years ago, and this week the first of my students will take the gaokao. They are nervous, and so am I.
The gaokao is the most important challenge for almost all high school students, because it is the main method of gaining entry to a university.
Their scores will decide what kind of university they can attend, and their university diplomas will play a major role in deciding what job they can get.
Gaokao is a word full of sweet dreams and nightmares. Many students have big dreams and they set top universities as their goals. But the pressure and competition can cause breakdowns. Some lose sleep and become ultrasensitive.
However, most learn to accept whatever score they get in the exam and get on with their lives. Most will pursue university education and find their own path through life.
But I believe they will definitely become mentally stronger after taking the gaokao. After all, it is the most intense competition in China.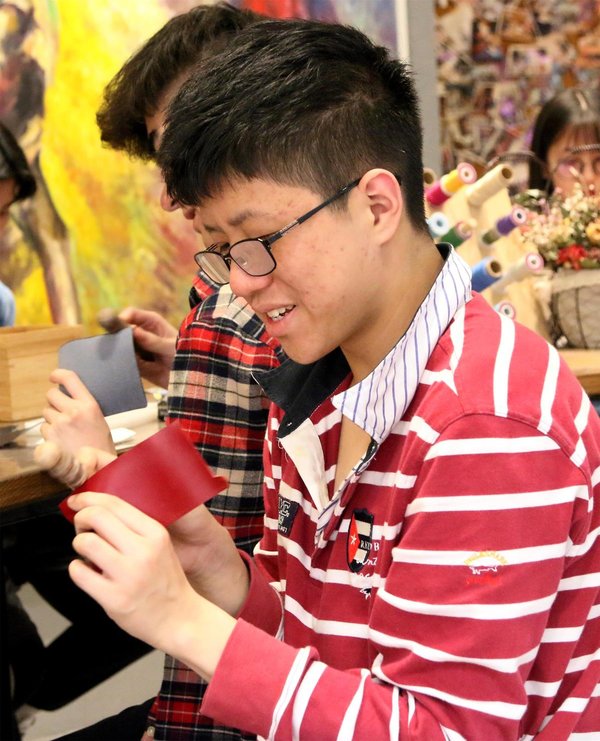 Lei Zikang, 19-year-old high school student in Wuhan, Hubei province. [For China Daily]
I don't need to take the exam
I am not going to take the gaokao, because I have received an offer from the University of Waterloo in Canada to study for a bachelor's degree in mathematics.
The summer after I graduated from junior high school in 2016, my mother took me to Canada and the United States for two months.
I visited many famous universities.
At Princeton University, I stood outside a classroom and watched a professor deliver a lecture.
The professor's voice was so loud that it carried all the way outside the classroom.
The students discussed problems together, and the scene was harmonious.
It impressed me, because I hadn't seen that in a Chinese school.
After entering high school, I planned to take the gaokao after the traditional three years of study, like most Chinese students.
However, after a year, I realized that traditional education was not what I wanted.
I am not saying whether Western or Eastern education is better, only whether the methods suit me or not.
I didn't like to keep doing homework, which is heavily oriented toward exams.
I don't want to limit my thinking, so I prefer to study via free discussions, like I saw at Princeton.
As a result, I decided to abandon the gaokao and apply to a university overseas.
When I finished the first year at Wuhan No 6 High School, I transferred to the international department of the school.
It uses Western educational methods, which helped my university application.
Of course, my time in the Chinese education system helped a lot, too. The first year in high school gave me a very sound and complete educational foundation.
Now, I am doing some reading for university study.
I have a good friend who will take the gaokao this week, and we meet often to share our ambitions and dreams.
(Source: China Daily)