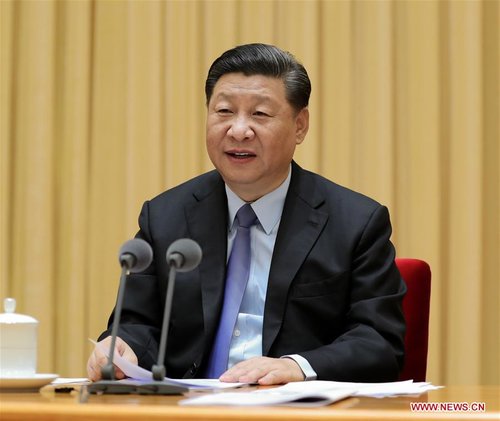 President Xi Jinping, also general secretary of the Communist Party of China (CPC) Central Committee and chairman of the Central Military Commission, speaks at a national education conference in Beijing on September 10, which marks the 34th Teachers' Day in China. On behalf of the CPC Central Committee, Xi extended congratulations and greetings to teachers and educators nationwide. [Xinhua]
President stresses enhancing teachers' political, social and professional status
President Xi Jinping called on September 10 for respecting teachers and valuing education, stressing the importance of stepping up efforts in educational modernization in a bid to build China into an educational power.
Xi, also general secretary of the Central Committee of the Communist Party of China, made the comment at a national education conference on Monday marking China's 34th Teachers' Day.
On behalf of the CPC Central Committee, Xi extended congratulations and greetings to teachers and educators nationwide at the conference, attended by senior officials from government departments across the country.
Calling education a foundation for national revitalization and social progress, Xi said educational undertakings are of decisive significance in promoting people's overall development, strengthening the nation's innovation capability and realizing the rejuvenation of the Chinese nation.
He stressed enhancing the political, social and professional status of teachers so that they will have the social prestige due them and will make greater contributions to the cause of the Party and the people by imparting knowledge.
The priority was given to developing education at the 19th CPC National Congress from the strategic perspective of upholding and developing socialism with Chinese characteristics for a new era, Xi said.
He hailed education as the fundamental task of the country and the Party, saying the goal of the educational cause is to cultivate socialist builders and successors with all-around moral, intellectual, physical and aesthetic grounding with a hardworking spirit.
Xi required more efforts to work out overall and strategic plans in education so educational undertakings can meet the development needs of the country and the Party as well as the expectations of the people.
Education should keep in step with China's comprehensive national strength and international status, he added.
Xi also stressed the importance of adhering to the Party's overall leadership over education, demanding Party organizations of educational departments and educational institutions at various levels firmly uphold the authority of the CPC Central Committee and its centralized and unified leadership.
He required educational institutions to nurture students' sense of patriotism so that they will be dedicated to the Party, country and people.
Xi called for reforms in educational systems and mechanisms, saying opening-up must be upheld in education, and international cooperation should be intensified.
Premier Li Keqiang also addressed the conference, saying the government will give priority to education in allocating capital and other public resources so as to develop education and human resources.
(Source: China Daily)