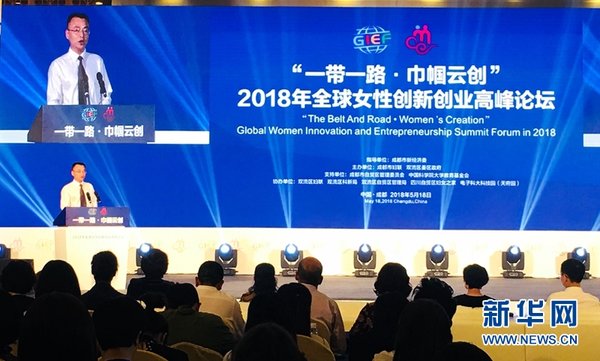 Attendees at the event. [Xinhua]
The women's federation of southwest China's Sichuan Province recently hosted the Global Women Innovation and Entrepreneurship Summit in 2018 in the Shuangliu District of Chengdu, capital of Sichuan.
The event was also supported by Chengdu Women's Federation and the Free Trade Zone of Shuangliu District.
At the gathering, relevant officials released the Blue Book on Women's Entrepreneurship in Chengdu, which summarizes their entrepreneurial endeavors by analyzing data and individual cases, revealing the important role of women in driving the social and economic development in Chengdu.
The data shows that 84 percent of female entrepreneurs in Chengdu are over 30 years old and 80 percent of them are equipped with a bachelor degree or above.
Meanwhile, 70 percent of these women majored in Chinese, Journalism and Communication Studies, Business Management, Art, and Design respectively, which provided them with more potential opportunities and advantages in the cultural creation field.
Furthermore, female entrepreneurs in Chengdu are also positively engaged in developing the original literary economy with distinctive local features. They are also pushing for the industrialization of such fields as historical literature, musical creation, films, and cartoons.
Some experts also interpreted a plan on building China's leading city for women's innovation and entrepreneurship. According to the plan, the local government of Chengdu will incorporate women's innovation and entrepreneurship into the industrial development of the new economy, and closely connect the construction of industrial function areas, which will contribute to Chengdu becoming China's most innovative city.
Professor Zhao Hong, who is from the School of Economics and Management at the Chinese Academy of Sciences University, delivered a speech titled Global Women's Entrepreneurship under the Belt and Road Initiative and discussed further on the theme, along with Du Yuqiong, professor at the Law School of Sichuan University (SCU), and Xu Ping, director of one of local Women's Home activity centers.
What's more, seven institutes or collectives, including the Science and Technology Park of the University of Electronic Science and Technology of China in Shuangliu District and the Women's Home of the Sichuan Free Trade Zone, were granted the title of Entrepreneurial Bases for Women.
Performances at the event. [Xinhua]
(Source: Xinhua/Translated and edited by Women of China)