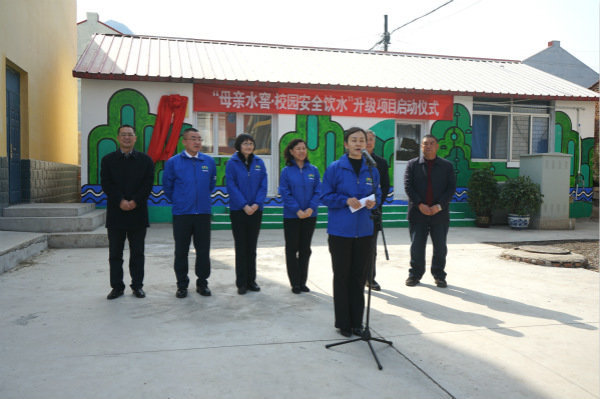 Organizers announce to kick off the Safe Drinking Water on Campus project. [China Women's Development Foundation]
China Women's Development Foundation (CWDF) held an inauguration ceremony in a rural elementary school of Xinglong County in north China's Hebei Province on March 21 to upgrade drinking water facilities for local children.
The latest charity event was held in celebration of the arrival of the 26th World Water Day (March 22) and 31st China Water Week (March 22-28).
It is part of the Water Cellar for Mothers and Safe Drinking Water on Campus initiative, which was launched by the CWDF in 2011 and aims to provide rural schools with necessary equipment to purify their drinking water and improve the sanitation standards of local toilets.
According to organizers, the upgraded facilities have shortened the construction period by roughly 50 percent, increased the efficiency of the recycling of water resources, and offered a broader space for interactive exchanges between volunteers and teenage beneficiaries.
Deputy Secretary-General of CWDF Zhang Jianmin said at the launch ceremony that the charity scheme is crucial to constantly improve the physical health of students in primary and middle schools and is a concrete measure to implement the national health strategy.
So far, the program has been accessible in nearly 770 rural schools from 25 provincial regions and covered a total of 400,000 students and teachers.
Zhang pledged that CWDF would make full use of its advantages, rally more social resources and work closely with governments at various levels to ensure safe access to drinking water for rural students and teachers.
On the sidelines of the opening ceremony, volunteers held interactive activities to help local students learn more about health issues around water and raise their awareness of water preservation in daily life.
Those in attendance at the event also included Yang Wenli, deputy mayor of Xinglong County People's Government; and representatives from two sponsor enterprises.
Local students collect drinking water from newly equipped facilities on campus. [China Women's Development Foundation]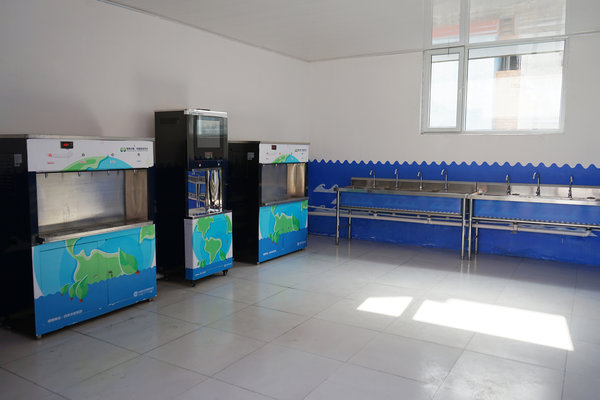 Newly equipped drinking water facilities on campus [China Women's Development Foundation]
(Source: China Women's Development Foundation/Translated and edited by Women of China)