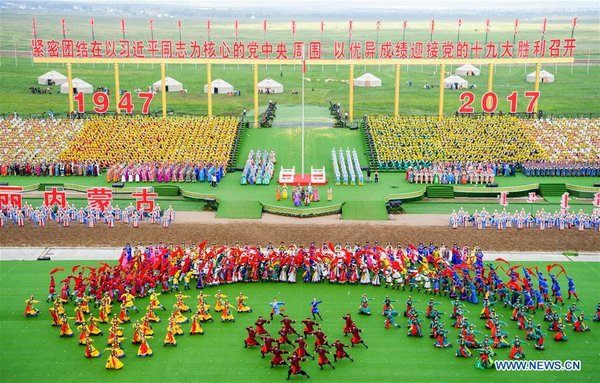 Photo taken on August 8, 2017 shows a view of the celebration marking the 70th anniversary of the Inner Mongolia Autonomous Region in Hohhot, north China's Inner Mongolia Autonomous Region.[Xinhua/Lian Zhen]
The Inner Mongolia Autonomous Region, the first provincial-level ethnic autonomous region in China, has made great progress in a number of aspects over the past 70 years.
Achievements in the north China region range from solid infrastructure construction and expanding education to improved living conditions and ethnic solidarity, which have earned applause and respect from the international community.
Enormous Progress
"The place has physically transformed in the last half a century," said Kerry Brown, one of Britain's leading experts on China, who did his Ph.D. on Inner Mongolia.
Before the establishment of autonomous region, Inner Mongolia was among the country's backward spots. But over the past 70 years, its economy has growth to 1.86 trillion yuan (about 279 billion U.S. dollars) in 2016, 642 times of that in 1947, ranking first among the country's five autonomous regions.
"Inner Mongolia has witnessed great and speedy economic achievements," Wiqar Ali Shah, a professor of social sciences at the Islamabad-based Quaid-i-Azam University, told Xinhua.
"Besides the traditional businesses of the area, the establishment of other industries is being encouraged," said Shah, adding the Economic and Technological Development Zones and export processing zone have created hundreds of thousands jobs which helped lift a big portion of the population including minorities out of poverty.
The presence of tall buildings is ubiquitous and the livelihoods of the region's ethnic minorities has significantly improved, said Gurhan Kirilen, a sinology associate professor at Ankara University in Turkey
Solitary Policy
China's ethnic policy has stood the test of time, said Mustafa Ibrahim, a Palestinian writer and analyst. He said the 70th anniversary of Inner Mongolia as autonomous region is a perfect example of the Chinese government's efforts to promote national solidarity and common development.
Ethnic autonomy in China's regions, prefectures and counties was introduced to create equality, solidarity and common prosperity for all ethnic groups. On May 1, 1947, Inner Mongolia Autonomous Region was founded under the leadership of the Communist Party of China (CPC).
The CPC's ethnic policies provide guarantees for different nationalities in China to ensure they enjoy equal legal rights and retain their respective religions, languages, living habits, festivals and so on, said Ibrahim.
The system of regional ethnic autonomy demonstrates the success of the CPC's policies, he noted.
Under the system, ethnic groups have also made positive contributions to China's prosperity and development, allowing them to feel proud as a Chinese people, said Ibrahim.
Prominent Example
China's ethnic policies are exemplary in the world, Shah said.
The achievements of Inner Mongolia in its 70 years exemplifies that China's economic development has benefitted ethnic groups, providing motivation for other nation states in the world, said Bambang Suryono, an Indonesian scholar and president of the Jakarta-based think tank Nanyang ASEAN Foundation.
Ahmed Magdy Abdelhamid Elsayed, who lives in another multinational country Egypt, said he admired China's ethnic unity, and hoped Middle East nations could learn from China in developing patriotism for their motherland and preserving national unity.
Joseph Lim, vice president of China Chamber of Commerce in Malaysia said China's ethnic and cultural policies are exemplary in the world.
He took the tourism industry as an example, saying the Chinese government took advantage of the country's diversified regional characteristics to develop tourism. This preserves ethnic cultures on the one hand while improving livelihoods on the other. Lim says other countries around the world could learn from China's approach.
(Source: Xinhua)