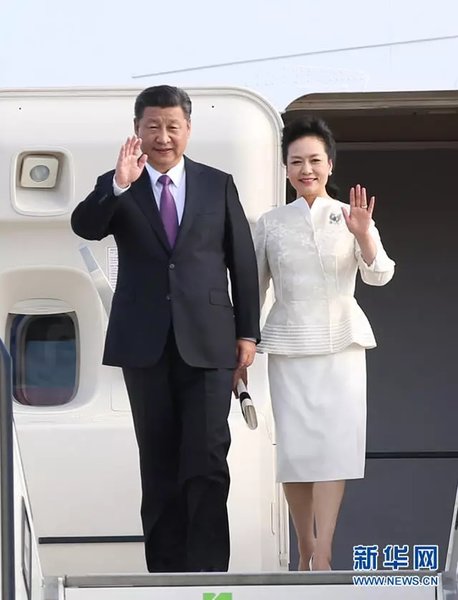 Chinese President Xi Jinping and his wife Peng Liyuan wave upon their arrival in Berlin on July 4 for Xi's second State visit to Germany. [Xinhua]
Chinese President Xi Jinping and German Chancellor Angela Merkel recently visited a giant panda garden and watched a friendly football match in Berlin on the 45th anniversary of the two countries' diplomatic ties.
China: 'Panda Diplomacy'
Xi and Merkel attended the official opening ceremony of the Panda Garden on June 5 at the Berlin Zoo.
When Xi and his wife, Peng Liyuan, arrived, they were warmly welcomed by Merkel. During their trip to the Panda Garden along a pathway decorated with red lanterns, they reviewed the history of friendly people-to-people exchanges.
As it was the public's first chance to see the two Chinese giant pandas, Mengmeng and Jiaoqing, visitors hailed their debut in their new foreign home.
Xi and Peng later communicated with local kids and sent toy pandas as presents. In return, they gave Xi and Peng panda-themed engravings.
For years, giant pandas, the black-and-white cuddly creatures, have won people's hearts worldwide and played a significant role as China's cutest diplomat.
In March 2014, when President Xi and his wife visited Belgium, King Philippe, Queen Mathilde and Prime Minster Elio Di Rupo warmly greeted them and together attended the opening ceremony of the Panda Garden in the Pairi Daiza Zoo.
During the event, Xi and Peng exchanged presents about pandas with local children.
Impressively, in September 2015, Peng and Michelle Obama, the former US first lady, visited the panda Tiantian in the country's National Zoological Park and announced the name of the panda new-born in Washington D.C. as "Beibei".
Germany: 'Black-White Ball Diplomacy'
For Germany, the country's "diplomatic envoy" is football.
On June 5, visiting Chinese President Xi, first Lady Peng and German Chancellor Merkel watched a football match between two countries' youth teams in the Berlin Olympic Stadium.
At the event, Xi told the Chinese footballers and their German peers, "You are the future of Chinese and German football game. I hope you can develop the hardworking spirit, learn from each other and maintain a close relationship."
Dating back to 2014, Xi and Peng visited, in Berlin, some 20 youth players from Zhidan County in northwest China's Shaanxi Province, who were co-trained with the youth team of the German club VFL Wolfsburg.
President Xi Jinping delivers a speech on the opening ceremony of the Panda Garden at Berlin Zoo. [Xinhua]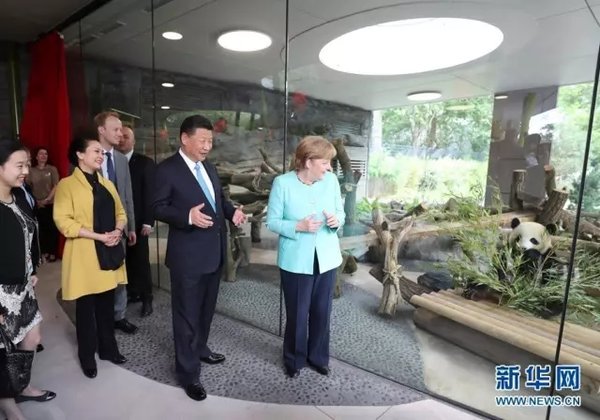 Xi, Peng and Merkel visit the Panda Garden. [Xinhua]
Xi and Peng give children toy pandas as gifts during the opening ceremony. [Xinhua]